Whether your summer is filled with plans of many trips to the beach, days of lounging by the pool, or spending time outside at your favorite park, music festival, or neighborhood BBQ, you will also need to plan to stay safe in the sun! What is sun safety? It's a term coined by the Centers for Disease Control and prevention that outlines the many ways someone can protect themselves from the sun's harsh UV rays. Whether you're spending a long period of time outside or just while you're in transit from place to place, it's critical to protect your skin from the sun and skin cancer. 
That doesn't mean that you can't enjoy the sun, which so many of us do, because sun exposure has many benefits, as well. For example, the sun can not only feel good on your skin but provide you with Vitamin D, which can be linked to your mood, how you sleep, and a host of other essential functions. In fact, most people experience Vitamin D deficiency because they don't get enough sun. So how do you balance fun and safety when it comes to spending your days outside? Luckily, we have you covered with our tried-and-true techniques that will allow you to stay safe in the sun no matter what you're doing! So get ready to have a blast this summer!
How to Stay Safe in the Sun
1. Get to Know Your Skin
Breakouts are common across many skin types when spending large amounts of time in the sun — this is because overexposure to the sun causes your skin to dry out and your body works hard to replenish essential oils, often resulting in blemishes. A typical skin care routine for acne would require plenty of thick moisturizers, but a summer routine for acne is more delicate. It calls for a light, oil-free moisturizer that hydrates without clogging up the pores. After all, you're sure to be piling on the sunscreen.
2. Embrace Summer Styles 
When you think of having fun in the sun, don't you envision wearing cute beach outfits? We sure do! Just because you have to make sure you're protected against the sun's harmful rays doesn't mean you have to cover up and skip out on wearing your favorite summer styles. Implement some of the steps below, and don't be afraid to wear that mini skirt or off-the-shoulder top! 
3. Apply and Reapply Your Sunscreen
One of the biggest protectors against harmful UV rays is sunscreen! We advise sticking to SPF 30 or higher — although any level of sunscreen is better than no sunscreen. From your face to your toes, sunscreen is the easiest way to hang out in the sun safely. So whether you're wearing plus-size bathing suits on the beach or your favorite jean shorts and a crop top, sunscreen should be your best friend this summer. From lotions to sprays, make sure to reapply your SPF throughout the day to stay protected. 
4. Sport Sun Safe Accessories
Protect your skin in style this summer with stylish accessories and keep the sun from burning you. Trendy plus size kimonos are great to keep on hand for any summer activity because they are lightweight and breezy, and they also provide you with full coverage. In addition, if you sunburn easily, kimonos or accessories like wide-brimmed hats can save your skin and protect you during sunny days. And the best part? You will be looking extremely stylish while also staying safe in the sun.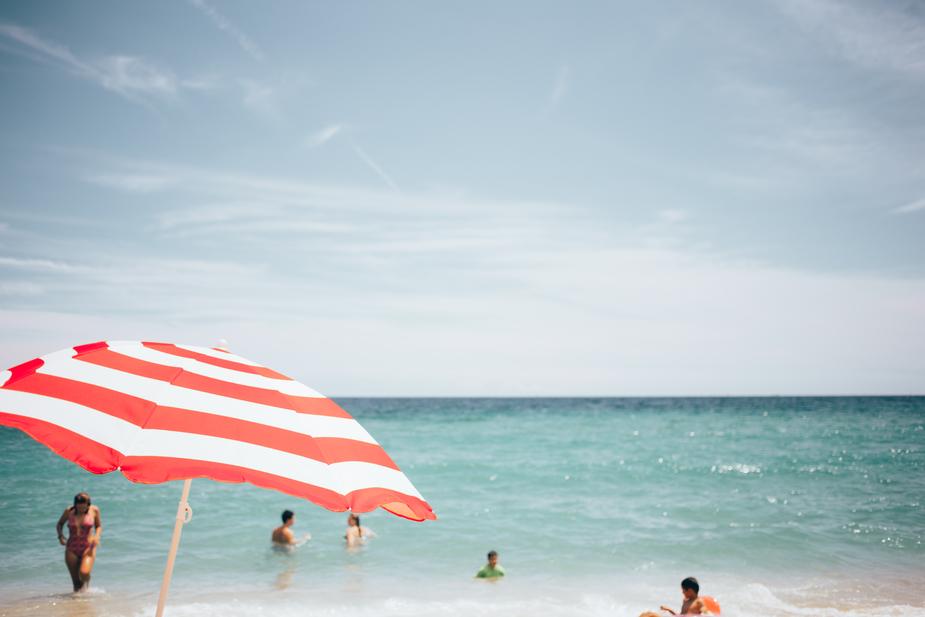 5. Balance Your Day with Shade
If you're planning on being outside all day, you may want to make sure that you work some shade into your routine so that you can recharge away from the sun. Whether you will be at the beach or the park, it could be helpful to identify a spot that has shade, such as under an umbrella or a tree. Taking a break from the sun can help you avoid sunburns and sun poisoning, which happen when you have too much exposure to the sun. 
6. Make Sure to Hydrate
Too much sun can not only cause sunburn; you may also become dehydrated if you're spending too much time in the heat. So make sure you are working water into your day as much as possible so you can stay out in front of any negative effects of over-exposure or dehydration. 
7. Pack a Cute Pair of Sunglasses
Your skin isn't the only part of your body that needs to be protected from sun exposure; your eyes are sensitive to brightness, too. So make sure you give your eyes a rest by packing sunglasses and wearing them throughout the day. You can also keep the sun out of your eyes by wearing accessories like a visor or a baseball hat. 
8. Avoid Being Outside During Peak Sun-Times
If you live in a very warm climate or an area that doesn't get much shade, it could be beneficial to avoid the sun during peak times — from 10 a.m. to 4 p.m. — when it is shining down right above you. You could also avoid daytime exposure when there isn't any cloud coverage, so the sun isn't beaming down on you all day. 
9. Ditch Tanning 
If you like to lie out in the sun for a long time to get that summertime glow, it may be best to limit your exposure as much as possible if you want to reduce your risks of sun damage. Tanning your skin can result in cancer, premature aging, and burns. If you want a bronzed look, try using sunless tanners instead. 
Now that you're ready to have fun in the sun the safe way, what's stopping you from having the best summer or tropical vacation ever? Make sure you enjoy the sun while being responsible about your exposure so that you can get the most out of its benefits while also staying away from some of the dangers. 
Featured Photo by Sarah Pflug from Burst