It's essential to find a therapist that "gets" you. If you've seen multiple therapists, you know that not every therapist will be the right fit. It's not that someone isn't skilled at their profession if you don't connect with them; it's just that everyone has needs that are unique to them and that different personality types work for different people. Individuals who are socialized as women or who identify as women face unique issues, and sometimes, it's hard to find a therapist that is attuned to those things. Furthermore, it can be uncomfortable to open up about women's issues with someone who's not on the same page or who hasn't had those experiences themselves.
You deserve to have someone you're comfortable speaking to about the issues that affect you, no matter what they are. You might be wondering, "are therapists that specialize in women's issues?" The answer is yes! There are mental health providers that focus on women's issues or specialize in working with women, and it is possible to find a provider that is the perfect fit for you and your needs. 
How do you find a good therapist?
First, it is crucial to identify what is bringing you to therapy. Do you and your spouse want to work on your relationship together? If so, you want to see a couple's counselor. Do you aim to work through trauma in therapy? If so, you'll want a trauma-informed therapist or someone who specializes in trauma. If you have an eating disorder, it'll be essential to find an eating disorder specialist, and if you have OCD, you probably want to find someone who has experience working with clients who have OCD.
Another thing that's important to consider is the modality that your future therapist utilizes. You might want to try art therapy, DBT, CBT, EMDR, or another modality. Perhaps, you've been attempting a specific kind of therapy in the past that didn't work for you and want to try something different this time. It could be that traditional talk therapy didn't cut it for you, and what you'd find more useful is EMDR or hypnotherapy. 
You might consider calling a provider before scheduling an appointment with them to talk to them and get the gist of how they work. Think about the personality type that you'd want to work with – do you want a therapist that is gentle and lets you do most of the talking, or do you want someone more direct who asks a lot of questions? Remember that this person works for you. There's no need to stick with a therapist that doesn't resonate with you, and if you don't find the right fit the first time, keep searching. Every therapist is unique, and you will find the right dynamic.
What does it mean to work with women's issues?
Working with women's issues doesn't mean that you'll only talk about topics related to womanhood with your clients, but it means that you will learn specific issues impact women or those socialized as females. Here are some of the things that you might talk about in therapy with a professional who works with women's issues:
Medical challenges such as postpartum depression

Societal pressures and conditioning related to womanhood

Expectations placed on women by families, partners, religions, and so on

Female sexuality 

Empowerment for women and girls 
While these issues don't only affect individuals that are female, many therapists that work with women's issues are also adept in helping people with things like body image, general intimacy issues, and relationships. 
What other populations can therapists serve?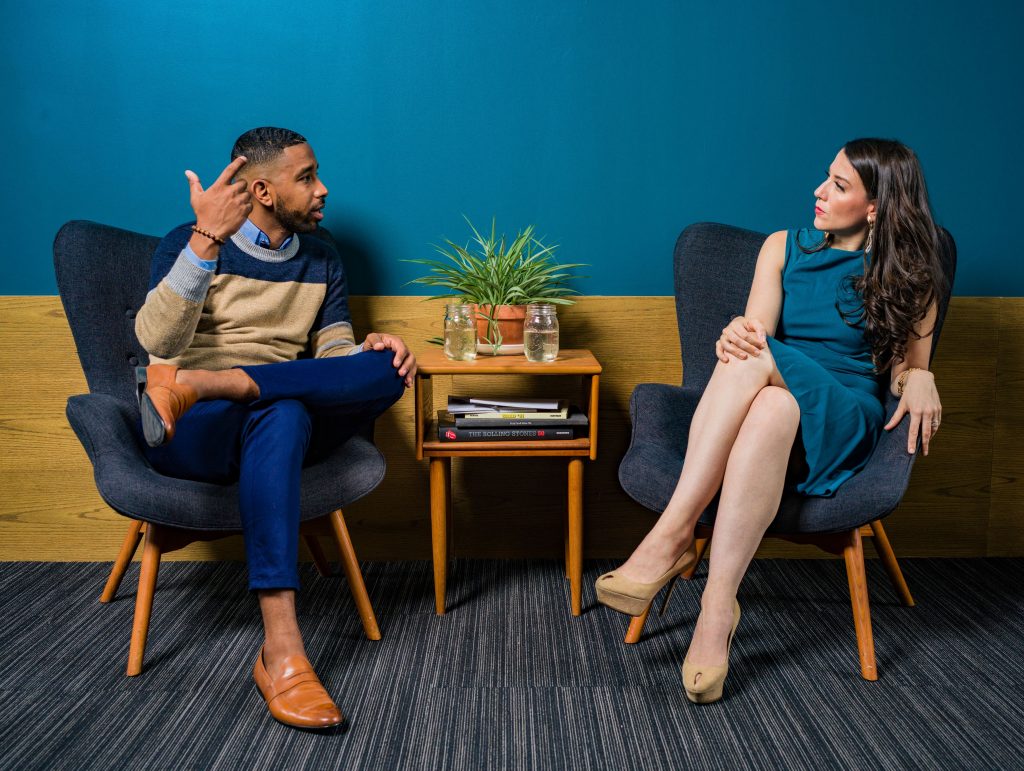 There is an abundance of different therapists that work with specific populations, and they are not limited to therapists that focus on the female population or women's issues. There are therapists and counselors that predominantly work with the LGBTQ community, children, seniors, veterans, ethnic minorities, survivors of domestic violence, or those who have faced substance use. Some therapists have gone through specific training programs outside of school to give them additional knowledge or certifications to enhance their practice. Often, if a therapist has a website or an online profile, it will specify these things. It'll also tell you about this person's educational background, how many years they've been practicing as a mental health provider, and more.
If you aren't a minority, you might wonder why this kind of specification is essential. Many minorities face additional barriers to treatment, and when it comes to minorities such as women, people often face a lack of understanding from healthcare providers that can get in the way of the efficacy of treatment. It's especially true when it comes to seeking help for issues such as pain, which is an area where many women go unheard and undertreated. It is essential in all healthcare settings, including mental health care settings, that people are validated and listened to so that they can receive the appropriate and compassionate care that they deserve. 
Online therapy
One of the great things about online therapy is that it's an excellent option for those in remote areas who don't have access to many options when it comes to picking a therapist. Online therapy is often more affordable than traditional therapy, and you can access it anywhere with a reliable internet connection. Whether you work with someone in person or online, you deserve to have a professional that understands your experiences and listens to your concerns. Search the network of online therapists at BetterHelp or look for a mental health professional in your area and find a provider that you connect with today. 
Featured Photo by Toa Heftiba on Unsplash