A healthy body and a healthy mind equal a happy soul. But in a modern, digital world – especially living and working in the bustling rush of the city – it can be hard to disconnect from our daily stresses and distractions and reconnect with those closest to us. A group wellness retreat is a great way for you and your friends or family to bond while enjoying some self-care and much-needed time away from the daily grind. And the San Francisco area has no shortage of great weekend wellness retreats to help you and your entourage clear your heads and bond.
Many of California's retreats and other facets of the hospitality industry are still suffering the after-effects of this year's wildfires, so paying a visit to those that are still able to operate is a great way to support the state's economy and some individual small businesses and charities, as well as getting away for the weekend.
We've rounded up some of the best spas and wellness retreats within a short drive from the city. And to help your group get a head start on clearing your head, consider booking a San Francisco minibus or charter bus rental to transport your group to and from your wellness destination of choice. That way, no one will have to cope with the stress of traffic or directions on the way there or on the way back, so you can bring your zen mindset with you all the way home.
#1 Mount Madonna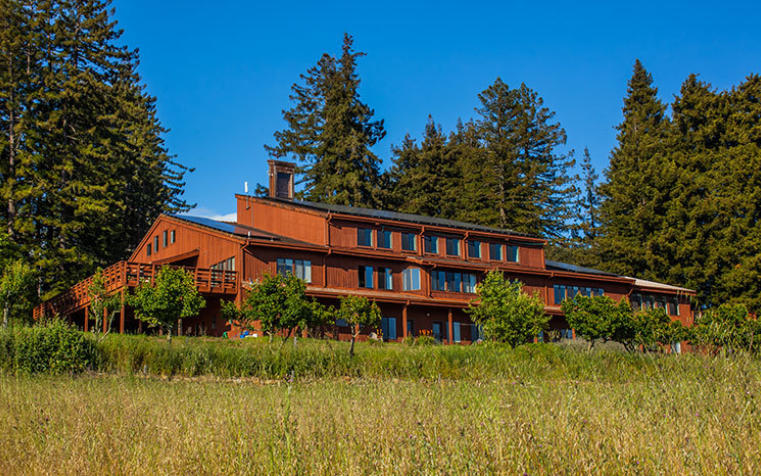 The Mount Madonna Center is located in the Santa Cruz mountains, a two-hour drive outside of San Francisco. Its range of conference and accommodation spaces, sprawled among 355 acres of meadow and forest, offer modern facilities at the heart of nature.
The center can accommodate groups from 15 to 500 people in this beautiful, spacious setting.  You and your group can take part in one of the organized programs run by the retreat. Or you can do your own thing, supported by the community staff, and dip in and out of the yoga classes, meditation, massage and ayurvedic treatments, ceremonies of light in the onsite Vedic temple, and the healthy, vegetarian meals provided – not to mention the unbeatable view over Monterey Bay.
#2 Ananda Mountain Retreat
Ananda is in Nevada City, a longer drive outside San Francisco but still doable for a long weekend. This retreat describes itself as 'a place of deep inner silence'; and its setting within 72 acres of meditation gardens certainly lends itself to serenity. However, they welcome groups from other paths than yoga and meditation, welcoming all spiritual and artistic groups as well as other forms of workshops.
They can accommodate up to 30 guests to experience their yoga and meditation classes, with space including a kitchen and lounge, but also have camping space available during the summer months. Organizers planning a group rental are invited to sample the retreat's facilities in a free one-night stay to help you get the feel of the place.
#3 Kennolyn
A sprawling, 300-acre complex that started out in the 1940s as a summer camp for kids, Kennolyn's peaceful, rustic location in the Santa Cruz mountains is less than two hours' drive south out of San Francisco, heading through either Palo Alto or San Jose.
Kennolyn's look and feel is a little less – dare we say it? – New Age than some of the other retreats on this list. Kids' camps still take place on part of the site, it's all very sporty, and you're more likely to be offered pancakes for breakfast than matcha tea. Nevertheless, they do offer retreats specializing in yoga, meditation, digital detox and all the usual, spiritually enriching California fare.
#4 Land of Medicine Buddha
The Land of Medicine Buddha retreat is located among the forest foothills of the Santa Cruz mountains in Soquel, less than two hours' drive out of San Francisco. This is, as the name would suggest, an explicitly Buddhist venue, which asks guests to observe Buddhist precepts while on the property, including refraining from killing bugs. It won't be for everyone, but as a place to seek serenity, grounding and focus, it can't be beaten. They welcome groups of all sizes for meditation, yoga and other workshops – you don't have to be a spiritual group to make use of their range of accommodation space – including seasonal yurts – plus massage therapists, a sauna, a full-size pool and a dining room offering vegetarian meals.
#5 Cavallo Point Spa
Cavallo Point is just over the bridge in Sausalito, but it's still worth booking a bus rental to get your squad there and back together and maintain the group vibe. You can book out the whole place by the day or half day if you have a larger group.
This hotel spa is super high-end, rated by bloggers and travel magazines alike for its holistic range of treatments. As well as classic spa pampering you can choose from yoga classes, lawn bowling or croquet, guided hikes, meditation classes with a focus on practical application of mindfulness techniques, and lectures on wellness themes.
#6 Senspa
OK, we cheated – Senspa is actually in San Francisco (on a former military base, no less), but well worth the trip if you're coming from elsewhere in the Bay Area. Senspa offers a private group lounge for groups of between five and twelve, with other accommodation available for larger groups: perfect for your special occasion with family or friends. Try one of their wide range of beauty and wellness treatments, from the well-worn to the more surprising: if you want a lymphatic detox facial or a Buddha belly massage for your baby bump, you're in the right place. Or just chill in one of the three relaxation rooms and let your troubles melt away.
Whatever you and your squad have in common; whatever your choice of activity to relax your body, mind and soul; you'll find something to suit you in the Bay Area. So hire that bus, pack up your buddies and your troubles, and hit the highway to health.
Image credits; Image credits; Image credits