Attention, beer lovers! Looking for the perfect festival to end your summer? How about soaking in the California sun at a four-day festival of craft beer and music in Mammoth Lakes, CA?
The Annual Mammoth Festival of Beers & Bluesapalooza brings together all of the best craft brews from around the States along with a number of headlining blues bands.
After touring the beer capitals of the world, getting home to California and sampling the top domestic taps is a real treat. For the past 24 years, Mammoth Lakes has hosted this epic festival and it's a massive draw every year.
Ready for an unforgettable weekend away? Here is everything you need to know about the Mammoth Festival of Beers & Bluesapalooza.
Exploring Mammoth
Nestled in the Eastern Sierra mountains in Central California, Mammoth is a gorgeous year-round resort town. It's a stunning ski destination in the winter and an outdoor adventure wonderland in the summer.
There are few things better than a road trip through California so, if you can make time for it, I'd highly recommend driving to Mammoth. It is around six hours from either San Diego or San Francisco—and it is a gorgeous trip!
There is an airport in Mammoth, which can be a good option if you're in a rush. It is a very limited schedule though so you'll want to plan ahead.
Once you arrive, I'd recommend staying in Mammoth Village. It is a central location that will make it easy to get to and from the Mammoth Festival of Beers & Bluesapalooza.
There are a couple of central hotels along with a range of lovely Airbnb picks. And camping! The surrounding mountains are one of the most beautiful places in California for camping.
Foodies will want to keep their eyes peeled for the top-notch local restaurants. Be sure to make time to visit Mammoth Brewing Co. and Distant Brewing Co for the ultimate craft beer tour.
If you have some energy to burn after all that beer and food, Mammoth is an outdoor lover's dream. After the festival, I'd highly suggest planning a few days of exploring the great outdoors. Mammoth Lakes site has an extensive guide of everything there is to do.
The Annual Mammoth Festival of Beers & Bluesapalooza
One of California's biggest craft beer festivals, there are more than 85 different breweries serving up ciders, lagers, and all sorts of other suds. The upcoming 2020 Annual Mammoth Festival of Beers & Bluesapalooza is going to be the 25th Anniversary and it promises to be one of the highlights of summer.
The event dates for next year are July 30 – August 2, 2020—mark you calendars! Tickets should go on sale for the 25th Annual Blues & Brews Fest in December of this year.
As you knock back pints, you will find 20-some different bands from all over the country performing blues, soul, R&B, and rock. While I would say that the crowd slants older than your average "Coachella" festival, it is such a chill experience and one I would recommend to everyone looking for a weekend of good vibes, brews, and mountain scenery.
It's a gorgeous setting with ample room to spread out!
The Music
There are going to be two music stages in 2020, the Bluesapalooza Main Stage and Minaret Stage. There will be 20 artists on throughout the day with a soon-to-be-announced lineup (you can check out the 2019 list of performers to get an idea of the style).
It is a perfect place to discover new music! The lineup is so diverse that you're almost guaranteed to find a new favorite. I was new to blues music before discovering the festival but I fell for the atmosphere and energy of the festival almost instantly.
Food & Drink
There is always a vast array of breweries coming out for the Brew Fest. Best of all, the beer tastings are unlimited for a portion of each day—so you can try them all without spending a fortune.
Cheers to that!
Once the tasting period is over, there are bars all over where you can buy your fave beer or switch to other drinks if you're all beer'ed out.
There is a fabulous selection of food and retail vendors where you will find everything from buddha bowls to mini donuts. Best of all, you can bring in your own food and non-alcoholic beverages. This is ultra-rare in the world of festivals and a major perk—especially if you plan to spend your day there!
There are also water stations spread out through the event so don't have to worry about packing that or paying a premium.
Tips for Going to the Festival
If you are staying in the village, it's easy to walk or hop on the bus to the festival grounds. If you do opt to stay out of town, you can park at the Eagle Lodge resort, which is about one mile from the event. From there, you can take the free shuttle to the event.
While there is plenty of space, you'll want to arrive early to secure to lay out a blanket and chairs to settle in for your "blues and brews" weekend. The die-hard festival-goers will get there EARLY to rope off their space and then come back around noon when the beer tastings start.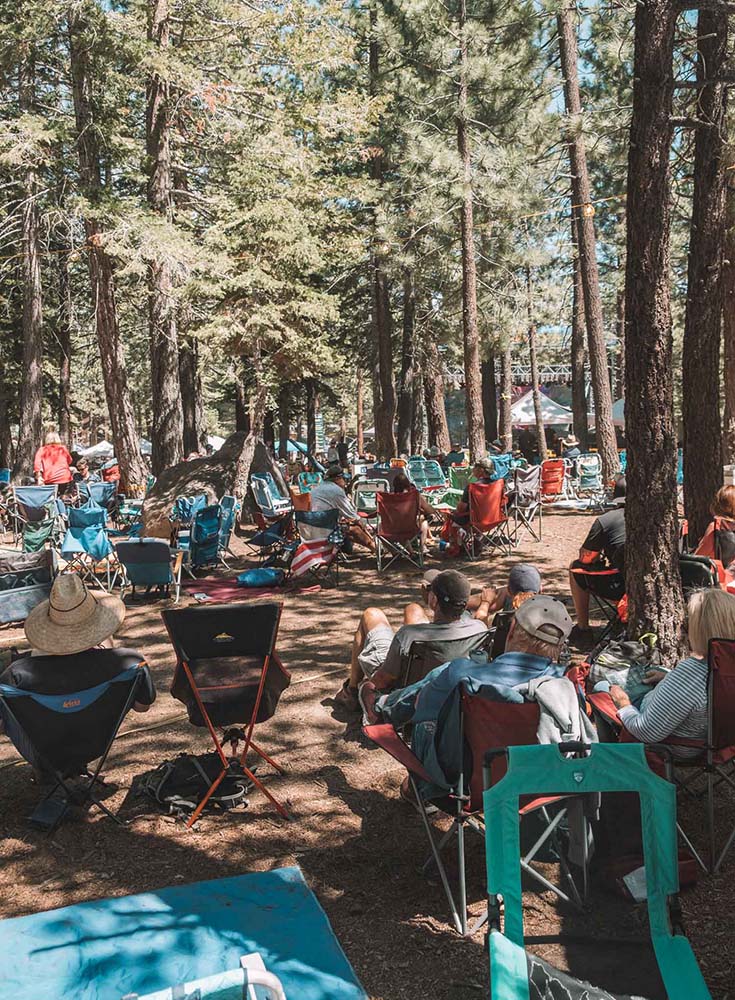 The earlier you get there, the better chance you have of being able to put your chair down and having a spot to chill throughout the day. Saturday is definitely the most crowded day, so I'd suggest starting your weekend early.
Helpful Tips:
Yes, it's California in the summer but the weather can vary so pack more than just flip flops and shorts. While it'll probably be around 80 degrees in the afternoon, the nighttime lows can often drop to 50 degrees and under—so bring layers.
You'll be walking around in dirt and wood chips all day, so leave the sandals and white sneakers at home.
Keep in mind that it's a higher elevation too so sun and beer will hit you harder. Pack ample amounts of sunscreen and bring a reusable water bottle that you can fill up at the water stations and stay hydrated.
Source Link – https://theblondeabroad.com/beer-and-music-festival-californias-mountains/