Advanced practice nurses' duties extend beyond just the examination room in healthcare and provide patients with top-notch and thorough care within the wider community. Despite this, social, cultural, political, and economic factors still affect their practice. To truly comprehend the dynamics of advanced nursing practice, one must examine how these diverse elements shape and redefine the responsibilities of healthcare professionals. This examination is instrumental in acquiring a complete comprehension of the field. This article delves into the significant impact that social, cultural, political, and economic factors have on advanced practice nurses. It aims to put their significance into perspective within the constantly evolving healthcare landscape.
The social tapestry
As an advanced practice nurse, you are influenced and impacted by the social tapestry surrounding you. The social determinants of health intertwine with your practice, shaping the care you provide and the outcomes you strive to achieve. Understanding and navigating these social factors is crucial for delivering effective, patient-centered care.
Firstly, social determinants of health include different factors that affect people's welfare. Socioeconomic status, education, employment, housing, healthcare access, and social environment are among these factors. Recognizing how social determinants impact your patients' health as an advanced practice nurse enables you to adopt an integrated approach to care. This approach helps to improve patient outcomes and overall health. For example, understanding a patient's socioeconomic challenges may lead you to explore community resources for affordable medications or address transportation barriers hindering healthcare access.
In addition, health disparities rooted in social inequities contribute to unequal health outcomes among different populations. As an advocate for health equity, you must recognize and address these disparities. The active identification and handling of inequalities in healthcare access, quality, and outcomes can assist in reducing the gaps in care and encourage health equality. These efforts might include working together with local organizations or joining discussions on health policies. The involvement of advanced practice nurses can also lead to the development of initiatives to tackle the specific requirements of marginalized populations.
Cultural kaleidoscope
In the diverse and multicultural healthcare landscape, as an advanced practice nurse, you are confronted with a rich cultural kaleidoscope that shapes your interactions with patients and informs the care you provide. Cultural competence becomes paramount in navigating this complex tapestry of beliefs, values, and traditions, ensuring your practice is sensitive, inclusive, and respectful of diverse cultural backgrounds.
Embracing the cultural kaleidoscope requires active engagement and a commitment to understanding the unique needs of all patients. By developing cultural competence, you can bridge cultural divides and establish a foundation of trust with your patients.
Cultural competence requires language proficiency. Quality care delivery can be obstructed by language barriers, leading to ineffective communication. Advanced practice nurses may utilize language assistance services or employ interpreters to tackle this challenge. Learning basic phrases in commonly spoken languages among your patient population is also helpful. Establishing rapport, comprehending patients' worries better, and working jointly toward shared decision-making is possible through effective communication.
In addition, healthcare decisions and treatment approaches may be significantly influenced by cultural beliefs and traditions deeply ingrained in one's background. Delivering culturally sensitive care requires recognition and respect for these cultural nuances. Open-mindedness, a non-judgmental attitude, and readiness to align your practice with patients' cultural preferences are required. For instance, recognizing the value of family involvement in making decisions can enhance patient satisfaction and outcomes. Healthcare routines that accommodate religious practices may also boost patient satisfaction and outcomes.
The political theater
Politics are crucial in governing advanced nurse practice as they influence policies and regulations. This influence significantly impacts the quality of care received by patients. This complex landscape requires advanced practice nurses to understand the implications of political decisions when navigating it. Active participation in advocacy initiatives is crucial to secure excellent patient care and professional advancement.
Political factors, including legislation, regulations, and healthcare policies, determine your work's scope. They can facilitate or impede your ability to offer comprehensive care. Your role requires that you engage in advocacy to elevate your voice and increase your effectiveness. Your participation is valuable in policy discussions that affect advanced nursing practice.
Balancing autonomy with collaboration within the scope of practice is an essential consideration. Advocating for an expanded range of training is necessary to utilize your skills and knowledge and to feel fully empowered. By collaborating with professional organizations, taking part in grassroots advocacy, and participating in legislative initiatives, advanced practice nurses are able to advance the recognition and understanding of their roles. This can lead to an increase in autonomy and better patient outcomes.
Economic forces
Economic forces play a significant role in shaping the landscape of advanced nursing practice and influencing the delivery of healthcare services. As an advanced practice nurse, it is crucial to understand and navigate these economic forces to optimize patient care, address financial considerations and contribute to the overall sustainability of the healthcare system.
The economic perspective makes resource allocation in healthcare critical. Limited resources must be allocated efficiently, including staffing, medical supplies, and equipment to meet the patient's needs. An advanced practice nurse may participate in strategic planning and decision-making operations. By working with healthcare administrators and interdisciplinary teams to allocate resources to prioritize patient outcomes, care delivery optimization is achievable.
Advanced nursing practice is also significantly impacted by reimbursement models and payment systems. Comprehending the complexities of different reimbursement methods, such as fee-for-service, bundled payments, and value-based reimbursement, is essential to maintaining financial viability and sustainability. As an advocate for your profession, you can actively participate in discussions and policy initiatives to secure fair and equitable reimbursement for services provided by advanced practice nurses. Quality of care improvements can enable access to the best healthcare for patients. You can ensure the financial sustainability of your practice by promoting proper reimbursement. High-quality care provision can be maintained through your support.
Technological advancements
In the ever-evolving healthcare landscape, technological advancements have become a driving force in transforming advanced nursing practice. From electronic health records to telehealth platforms and innovative medical devices, technology is pivotal in enhancing patient care, improving efficiency, and expanding the scope of practice for advanced practice nurses.
Digitizing healthcare information is one critical effect of technological progress. The way patient data is collected, stored, and accessed has undergone a revolution due to electronic health records (EHRs). Optimizing care coordination and documentation can be achieved by using electronic health records as an advanced practice nurse. Healthcare providers can also have their communication facilitated. Informed decision-making and personalized, evidence-based care delivery become achievable when access to comprehensive patient information is eased.
Telehealth is another transformative technological advancement that has gained prominence, particularly in recent years. Telehealth platforms enable remote consultations, virtual visits, and remote monitoring, breaking down geographical barriers and improving access to care. By deploying telehealth, as an advanced practice nurse, you can provide virtual consultations and offer follow-up care. Patients can manage chronic conditions with support from their homes as well. Convenience is promoted, and this technology reduces healthcare costs while patient engagement and satisfaction are enhanced.
Healthcare has witnessed the emergence of a powerful tool in predictive analytics. Revolutionary changes are occurring in how patient care, disease prevention, and resource management are approached. By harnessing the power of data and advanced analytics techniques, predictive analytics software enables healthcare professionals to make informed decisions, identify patterns and predict future outcomes with a high degree of accuracy.
Global health perspectives
In an increasingly interconnected world, global health perspectives have become integral to the role of advanced practice nurses. Healthcare professionals must understand diverse cultural, social, economic, and political factors to ensure improved health outcomes worldwide. Thorough comprehension is vital in offering equal and efficient healthcare services. Broadening your horizons and advocating for health equity can be achieved by embracing a global health perspective. Contributing to improving health outcomes worldwide is also possible.
Viewing health from a worldwide vantage point involves recognizing health disparities and inequalities across various regions and populations. Addressing health inequities requires comprehension of social determinants of health, including poverty, education, healthcare access, and social justice matters. Advocating for policies and interventions that prioritize vulnerable populations, promote health equity, and reduce local and global disparities is one of the many responsibilities of an advanced practice nurse. Communities can benefit from improved health outcomes thanks to this.
Cultural competence is crucial when providing care to diverse populations. Delivering culturally sensitive care requires recognizing and respecting cultural beliefs, traditions, and values. Encountering patients from varying cultural backgrounds is expected as an advanced practice nurse. Diverse populations might include immigrants, refugees, or individuals from indigenous communities. By acquiring cultural competence, you can build trust, communicate effectively and customize care to meet everyone's needs.
Interprofessional collaboration and team-based care
The healthcare industry's shifting landscape with regard to social, cultural, legislative, political, and economic impacts in relation to care requires an emphasis on interprofessional collaboration and team-based care to maintain high-quality, patient-centered care. Interprofessional collaboration and participating in team-based care models are crucial for enhancing your practice, optimizing patient outcomes, and solving complex healthcare challenges when issues are highlighted, or changes in process and care are implemented.
Interprofessional collaboration involves healthcare professionals from different domains working collectively to offer comprehensive care. Team members must communicate effectively, have mutual respect and make shared decisions. Holistic and coordinated care can be delivered to patients by collaborating with healthcare professionals such as physicians, pharmacists, social workers, and other providers who offer unique expertise and perspectives. Collaboration can bring about better health outcomes and increased patient satisfaction.
The collective endeavors of an interdisciplinary team are the foundation of team-based care models, which highlight its importance in patient care management. Common goals drive professionals with diverse backgrounds, skills, and expertise to collaborate in these teams. The provision of specialized nursing care, assessments, diagnosis, and treatment prescription make your role as an advanced practice nurse vital in these teams. Your tasks may include coordinating care plans as well. The team will benefit from your perspective and direction due to your experience, abilities, and advanced training.
Patients and healthcare providers can benefit greatly from collaboration among professionals and care provided by a team. A collaborative environment fosters enhanced communication among team members. Improved coordination reduces medical errors and increases patient safety. Diverse perspectives and expertise among team members are brought together to ensure a more comprehensive and comprehensive approach to patient care. This approach also ensures continuity of care. With their unique knowledge and skillsets, team members can contribute during various stages of a patient's healthcare journey.
Ethical considerations
Ethical considerations are fundamental to advanced nursing practice, guiding the decisions and actions of healthcare professionals in providing patient care, whether regarding the patient's religious, cultural, or other personal factors. As an advanced practice nurse, you face complex ethical dilemmas and must navigate these challenges to ensure the highest standards of patient care, maintain professional integrity, and uphold moral principles.
Respect for autonomy is paramount and involves providing patients with information, ensuring informed consent, and involving them in shared decision-making. Beneficence and non-maleficence guide actions in promoting patient well-being while avoiding harm. Balancing these principles requires assessing any intervention's potential risks and benefits and continuously evaluating their effectiveness.
Justice and equity are crucial in addressing healthcare disparities and promoting fair allocation of resources. Advocating for equitable access to healthcare, addressing social determinants of health, and eliminating biases or discrimination is essential. Maintaining patient confidentiality and privacy is a cornerstone of ethical practice, building trust, and upholding professional integrity.
Professional integrity and accountability are integral to ethical practice. Upholding the highest standards of professionalism, honesty, and acting in patients' best interests is vital. Ethical decision-making requires self-reflection, continuous learning, and adherence to professional codes of conduct.
Education and training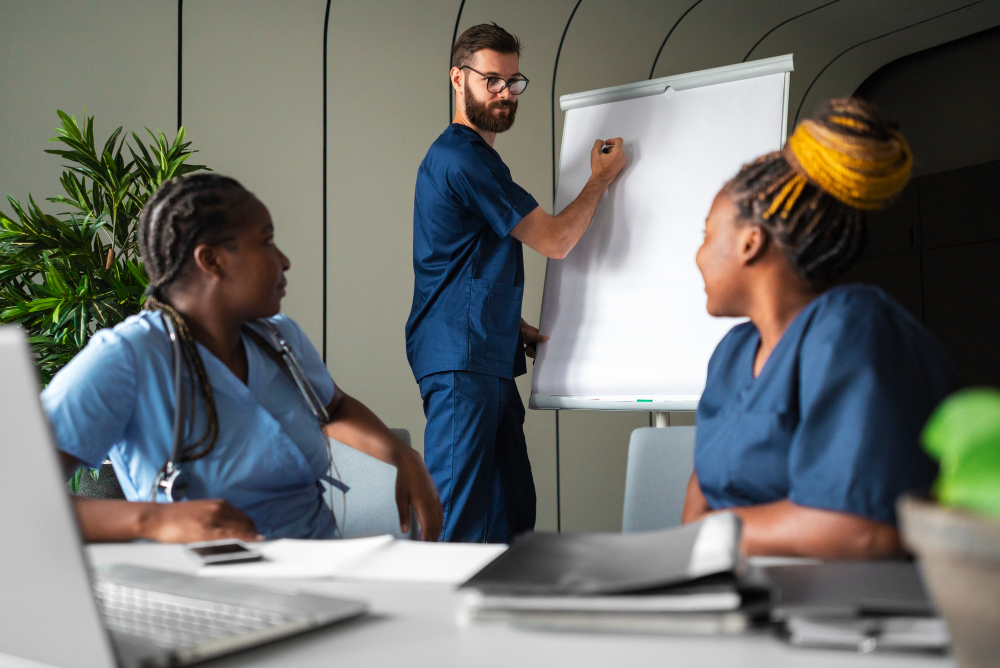 Education and training are vital components in becoming an advanced practice nurse and critical for your ongoing professional development and success. A robust educational foundation and continuous learning enable you to acquire the knowledge, skills, and competencies necessary to provide exceptional care and excel in your advanced nursing role.
If you've ever asked yourself, "What can you do with a master's in nursing?" by enrolling in a Master's in Nursing through an accredited university such as Rockhurst University, you can gain the knowledge, skills, and competencies to provide exceptional care and assume leadership roles. You will also have the opportunity to advance the nursing profession and positively impact public perception and trust in advanced practice nursing while furthering your role in the healthcare system.
Public perception and trust
Public perception and trust are critical factors that influence the role of advanced practice nurses within the healthcare system. Effective communication is crucial in shaping public perception, as advanced practice nurses must clearly articulate their position, expertise, and scope of practice to the public. Public education initiatives play a crucial role in dispelling misconceptions and increasing awareness about the qualifications and benefits of advanced practice nurses. Collaborating effectively with other healthcare professionals and wider social projects, whether through political or community-based channels, demonstrates the value and credibility of advanced practice nurses and helps to foster trust within the broader community.
Professionalism and ethical practice are fundamental in gaining and maintaining public trust. Advanced practice nurses can establish trust and credibility with patients and the public by upholding high ethical standards, respecting patient autonomy, and maintaining confidentiality. Positive patient experiences and satisfaction greatly influence public perception, underscoring the importance of delivering high-quality, patient-centered care that promotes positive outcomes and fosters trust in the profession.
Advocacy and leadership also impact the public perception and trust of advanced practice nurses. A commitment to advancing healthcare is demonstrated through active involvement in professional associations, healthcare advocacy, and policy-making initiatives. Taking these actions also means meeting the needs of both patients and the community. Through this proactive engagement, public trust in their capabilities is enhanced by highlighting advanced practice nurses' expertise, dedication, and impact.
Final thoughts
Social, cultural, political, and economic factors can still shape the role of advanced practice nurses. Advanced practice nurses must understand and recognize these complex forces to offer holistic, patient-centered care. Advanced practice nurses can shape the future of healthcare by addressing social determinants of health, embracing cultural diversity, engaging in policy advocacy, and navigating economic realities. Enhanced health outcomes may result for patients and communities. Promoting equitable and sustainable healthcare for all is possible with advanced practice nurses who evolve within this dynamic landscape.
Featured Image by wavebreakmedia_micro on Freepik