Shopping can be stressful. Shopping somewhere beautiful and unique that combines history with finding the perfect gifts is a new experience. If you've never explored the range at Aran Sweater Market, you'll love to discover the inspirational designs and modern twists on classic styles. There is something for everyone. You can find a wide range of clothing, accessories, and items for the home when you shop in person or online.
Even our stores are something special at Aran Sweater Market. Visit one or more of our stores. Our flagship store is on Inis Mor, the largest Aran Island. The Grafton Street store is in Dublin. Market store is in Killarney. Visit our stunning Galway store, which features an original 13th-century castle wall as part of its innovative design. All of our stores will give you an authentic taste of Ireland, showing off our beautiful Aran and Tweed products and sharing the stories of their creation.
Authentic Aran Knitwear In Ireland
The history of the Aran sweater is fascinating. You will find many styles and designs inspired by the traditional garment, handknitted by the women of the Aran Islands for more than a hundred years. Knitting and weaving are ancient crafts intertwined with the history of Ireland. Our clothing and homewares are an excellent choice for sustainability, too, made with our top-quality local wool.
The Aran Islands are the home of the Aran sweater, and the harsh but beautiful environment of these Islands is reflected in the stitches that make up these unique garments. In the early days, these sweaters were created to protect fishermen and farmers from the elements. The patterned stitches used are representative of the landscape and the qualities of the people who made their lives here. The Moss stitch, for example, represents the bright carrageenan moss that was historically an important food source. The Chevron stitch evokes the Atlantic Sea as it crashes against the cliffs of Inis Mor.
Wearing an Irish sweater that is so steeped in history is an exceptional experience. Finding the perfect gifts for your family members and friends within our range allows you to share this feeling. We even have a growing handknitted range of ClanAran sweaters that includes more than 200 family names already, and this is the perfect way to celebrate Irish heritage. Each Clan name consists of a Clan Scarf, Sweater, or Throw. Each comes with a family crest card to ensure that it is the perfect keepsake to treasure for years to come.
Your Aran Sweater Market Experience
Our stores are designed to make shopping a pleasure, and part of this is the welcome you receive when you visit. Friendly faces and helping hands will make all the difference to your shopping experience. We will be happy to answer questions about the craft and design of the Aran Sweater as you shop.
If you are shopping online, you can explore our products from the convenience of your own home. You'll find a wealth of historical information alongside beautiful images of our clothing and the Islands that inspired it. You will also find our stunning Celtic jewelry range, with designs inspired by mythology, legend, and local history. We love this Rhodium Pendant with Connemara Marble. You can contact us by email or call us to find out more about your favorite products and place your order, or order online and have your selection delivered directly to your door.
Our Favourite Aran Sweater Products
Every design at Aran Sweater Market is unique, and it's hard to choose a favorite! We are here to help, however, and we've picked out some extra special items to give you a head start this season.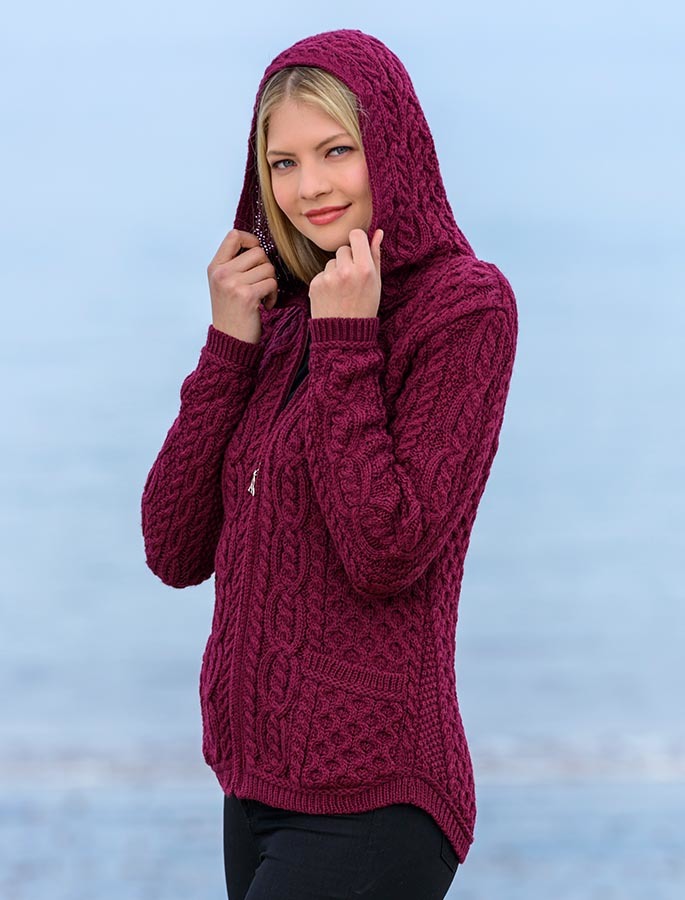 This contemporary jacket style Aran knit is the perfect combination of warmth and style and the hood will help to protect you against the elements all year round. It comes in a variety of stunning colors, and the Celtic knot zipper pull adds another traditional Irish touch. Made in Ireland, from 100% natural Merino Wool, this is a stylish modern choice for you or a special lady in your life.
Even the youngest members of the family can enjoy a beautiful Aran knit when you treat them to this lovely Baby Shepley Aran Hat with Ears. It's a gorgeous little handknit made with 100% Merino Wool and featuring a cute sheep pattern, and it comes complete with a signed and stamped certificate of authenticity.
Our Aran Knit cushion covers are a classic addition to any home. You can treat yourself or a loved one to something extraordinary when you choose your favorite. You'll love the traditional stitching and the soft 100% Merino Wool. The cushion covers come in many unique colors so that you can match them with your decor or enjoy this beautiful style in every room.
Check Out Aran Sweater Market To Keep You Warm This Winter
See our extensive Aran Sweater Market range online or visit one of our stores in the Aran Islands, Galway, Killarney, or Dublin. You'll find stunning Aran Sweaters, traditional Tweed Flat caps, items for the home and clothing and toys for babies and children. Aran Sweater Market is a fabulous combination of history and unique shopping opportunities.
We look forward to sharing our exceptional products with you and your family.