Wondering where to go on your next holiday? Consider Bern, the capital city of Switzerland. It was founded in the 12th century. UNESCO recognizes Bern as a World Heritage Site. It is a gorgeous city with medieval architecture preserved in the old town area. Bern is located around a crook in the Aare River. It is known as the city of fountains, with many of them dating back over 500 years. When visiting Bern, plan on at least three days to see as much of the town as possible.
Accommodations
There are several hotels in the Old Town area. Prices range from mid-level to luxury. Some hotels like Hotel Bellevue Palace Bern, Hotel Ambassador, and Hotel Landhaus have great views from the rooms. Some hotels offer AAA, senior, AARP, and military discounts.
Restaurants
You will not run out of places to eat in Bern, Switzerland. As you are walking through Old Town, there are many cafes to grab a bite to eat. In the evening there are plenty of sit-down restaurants to enjoy. Prices will vary. Some popular restaurants with lower prices include Gelateria di Berna, Da Nino, and Äss-Bar Bern, to name a few.
Entertainment
Bern is home to a land-based casino, which owns the online casino "7melons", for which players can find a review on an online guide. The guide includes online casino reviews to help players choose the best online casino sites.
Sightseeing
We have listed some sites below that you will want to put on your itinerary.
Altstadt – Old Town
Much of Altstadt was rebuilt in 1405 due to a fire. In place of the earlier wooden houses, tall sandstone buildings were built. One of the defining characteristics of the city is its arcades. The arcades are on the ground floor of the buildings. There are about four miles of arcades that have shops, bars, cafes, and restaurants. Be on the lookout for the 11 Renaissance fountains.
Zytglogge – Clock Tower
The Zytglogge is a medieval tower that once was the city's western gate built in the early 13th century. It has served the city as a guard tower, prison, and clock tower—plan on visiting the clock tower on the hour. The clock strikes on the hour and displays a performance of mechanical figures such as a parade of bears, a jester, a golden rooster, and Chronos, the god of time. It is worth seeing. The children will enjoy the performance as much as the adults. You can get a tour to visit the inside of the tower. Zytglogge is full of history.
Bern Cathedral – Bern Minister
When visiting a European city, you can't miss seeing some of the historic cathedrals. Bern is no exception. The Bern cathedral started construction in 1421 and was only completed in 1893. It is built in the Gothic style with a tower that is over 300 feet high. Take your time looking around inside and outside the minister. There is so much artwork to see to include stained glass, frescoes, and sculptures, especially the choir vault with stone figurines and, of course, the bells.
Bern Historical Museum and Einstein Museum
I love visiting historical museums. Bern's historical museum is no exception. It is home to historical objects from the Stone Age, Ancient Egyptian burial customs, Indian handicrafts. Plus, it has 2,400-year-old exhibits from the Orient. It is one of the leading cultural-historical museums in Switzerland. It is home to over 500,000 specimens. Some of the exhibits include the Bern Minister, models of the Old Town, and various treasures from the Renaissance and Baroque eras. Plus, you don't want to miss the integrated Einstein Museum. Albert Einstein lived in Bern when he developed his theory of relativity. There are photos, objects, and replicas plus 70 films and numerous animations that outline the biography of Einstein and his ground-breaking discoveries.
Bundeshaus – Swiss Federal Assembly
Switzerland is one of the oldest democracies. Bern is the Federal Capital of Switzerland since 1848. You can take a tour of the building and learn about its history. In front of the building is a fountain with 26 jets representing the 26 cantons or sections of Switzerland. The children and adults who are children at heart love to play in the fountain.
Bärengraben – Bear Pit
The city of Bern has had a fascination with bears. After all, Bern means bear. Bears have had a home in Bern since 1513. In 2009 a new and spacious bear park was created, giving more room for the bears to roam. They can even take a swim in the Aare River.
Rosengarten – Rose Garden
Not far from Bärengraben is the rose garden, Rosengarten. If you love roses, you don't want to miss the Rosengarten. It has over 400 types of roses blooming in summer and fall. In the spring, there are Japanese cherry blossoms in bloom. They also have irises and rhododendrons throughout the park. There is a water lily pond with a fountain and large open grassy areas. Come and relax in the rose garden. Bring a book and sit on a bench and read. Have a picnic. The locals visit it for romantic dates and after-work meeting places to meet up with friends.
Gurten – Bern's Local Mountain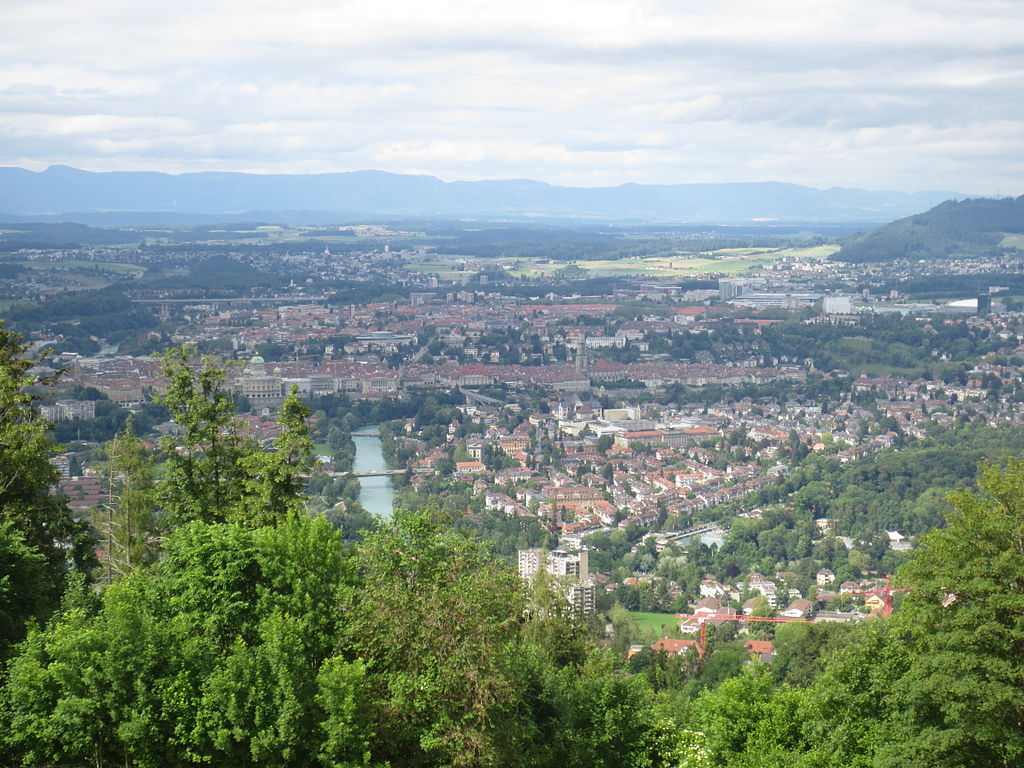 If you have the time, visit the Gurten, Bern's local mountain, or, as the locals call it, Güsche. It is a popular area for nature-loving families and tourists. Gurten is a great place to go hiking with a view of the city. They even have a mini ski lift in the winter if there is enough snow to go sledding. Gurten is a great place to go and take pictures of the city.
Conclusion
These are just a few of the highlights to see in Bern, Switzerland. Make sure you bring comfortable shoes and clothing. There is a lot to see, shop, and eat in the Old Town area. If you love history, this is a must city to visit, not to mention all the gorgeous spots for taking photos. Tourism in Bern is popular as people worldwide visit this unique ancient city full of history and beautiful places to visit.
Featured Image by pasja1000 from Pixabay