While Halong Bay is like a phenomenon in the world of tourism for a decade, Lan Ha Bay's appearance is like a new wind among tourists who are planning to have a cruise tour in Halong Bay. Thanks to Lan Ha Bay's existence, the concept of traveling to Halong Bay no longer means only visiting Halong Bay but also its brother Bays, especially the Lan Ha Bay. And present, most of the cruises operating in Halong Bay also travel to Lan Ha Bay. These boats can be called as Halong Bay Cruises and also Lan Ha Bay Cruises. 
Cruising to Lan Ha Bay has just been a new trend for the last few years. Many new boats continue to be launched to serve the huge number of tourists who come there each year. Check out the reasons below why you should travel to Lan Ha Bay.
Lan Ha Bay is quieter than Halong Bay
Well, this is true! Halong Bay has been exploited for more than a decade, welcomed millions of tourists in total, and the number will keep rising. Especially when the heat Halong Bay among Western tourists has been going down, it still a fever of tourists from the Main Land of China, and a huge number of Chinese tourists flock here each year that boosts the number of boats and services in the Bay, makes it extremely crowded. A stop here may gather dozens of junk boats and vessels. 
On the other hand, as a brother of Halong Bay, Lan Ha Bay has just become a must-visit destination over the last few years. Of course, its name cannot be as popular as the world-known Halong Bay. Therefore, not so many tourists know about it, especially because it is not famous among Asian tourists who account for the majority of foreigners traveling to Vietnam. Fewer tourists mean less crowded. Lan Ha Bay is still a tranquil area and very suitable for a leisure trip.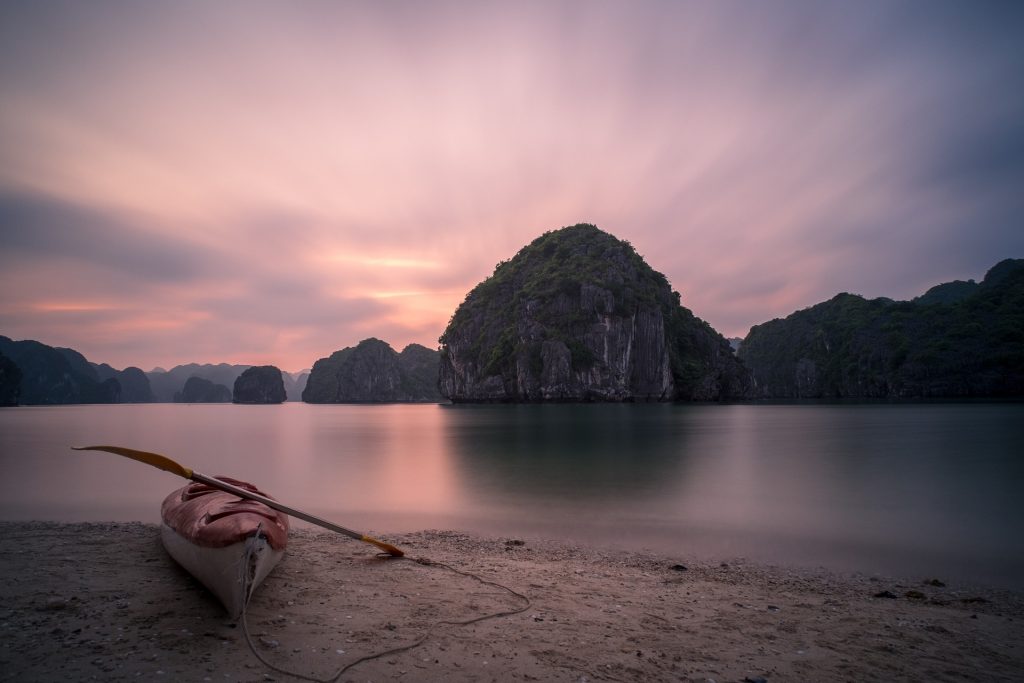 Lan Ha Bay is clean
While Halong Bay is handling its polluted problems caused by the overexploited activities, the tourism activities in Lan Ha Bay were activated in the time that most of the tourists and also service providers here had an awareness of protecting the environment. Environmental policies enacted last year in the Bay have helped to reduce tourism wastes in the Bay. Most of the cruises in Lan Ha Bay cut down the plastic disposal waste by not providing mineral water in plastic bottles and 1-use raincoats. This the amount of tourism waste affecting the eco-system and environment of Lan Ha Bay has been minimized at the lowest level. When you are cruising throughout Lan Ha Bay, you will find out the emerald seawater is extremely crystal clear, that sometimes you can also see the fishes swimming here and try night squid fishing at night or enjoy swimming in the day time. 
Lan Ha Bay cruises are luxury, new and modern
Most of the Lan Ha Bay cruises, especially the luxury ones are launched in 2016, comparing with many cruise boats in Halong Bay, which were launched in the last decade or older, the cruise in Lan Ha Bay is new, modern, and so stylish. Many Lan Ha Bay cruises are at a high standard from 4-star to 5-star, with big steel boats, large cabins, fine dining cuisine, high-end services, etc.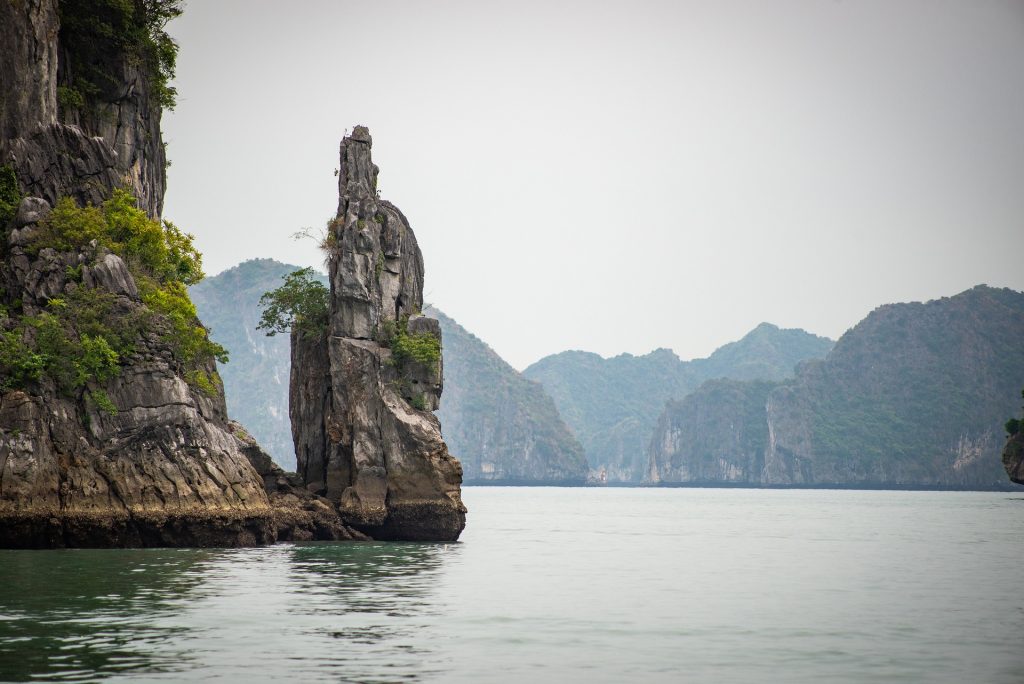 Lan Ha Bay is the best destination for a leisure cruise trip
There is almost no sightseeing attraction when you are cruising in Lan Ha Bay except for Cat Ba Island – the biggest island in the Gulf of Tonkin and located between Halong Bay and Lan Ha Bay. However, not all Halong Bay – Lan Ha Bay cruises include Cat Ba Island in their itineraries. Some only take their guests to Cat Ba Island with 3d2n cruise tours. Therefore, there are only two types of Lan Ha Bay itinerary: including Cat Ba Island or not. If you expect to have a full day staying on deck and enjoy the high-end services there, just choose the one with no Cat Ba Island in the itinerary. On the other hand, if you want to exercise a little, you should book a Lan Ha Bay cruise that includes Cat Ba Island in its itinerary, allowing you to have a very short sightseeing trip here and enjoy the cycling experience here.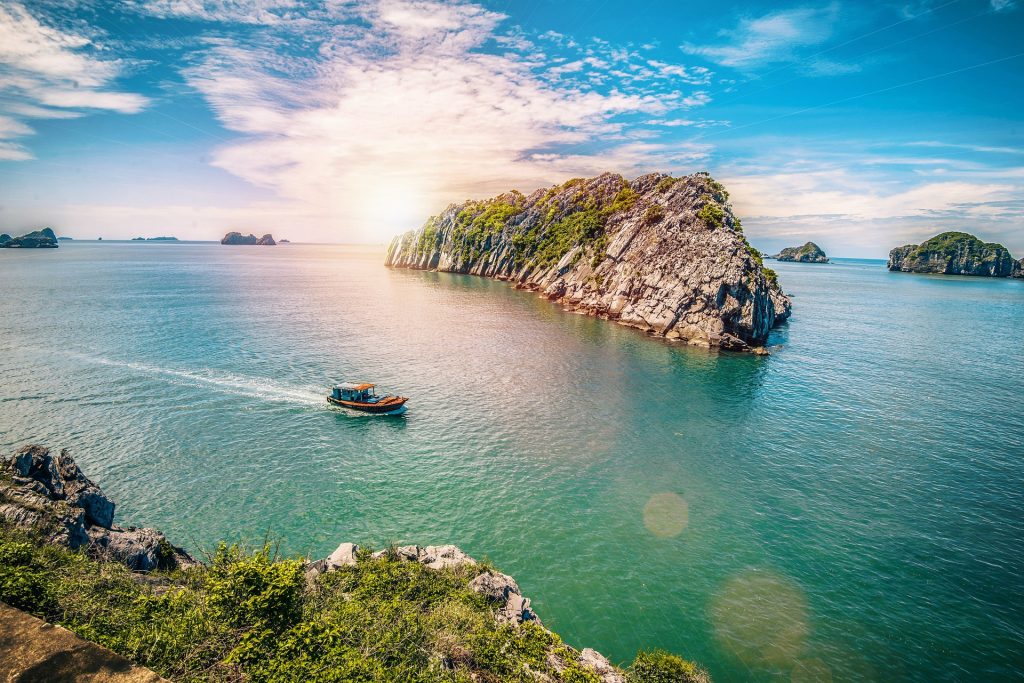 Besides, not just the itinerary, as Lan Ha Bay is the destination that gathers all the most luxurious cruises in the Gulf of Tonkin, just spending all day long on deck is absolutely perfect for relaxation whether you choose to stay on the soft king-size bed, enjoy the high-end spa and massage services or just chilling out in the alfresco bar, etc.
After all, despite being a new destination and not very popular, Lan Ha Bay still has its own charm attracting more and more tourists to cruise there and enjoy their precious vacation. On the other hand, if you still want to visit the world-known Halong Bay, there are many cruises take you on a trip from Halong Bay to Lan Ha Bay, check here for more Halong and travel to Lan Ha Bay cruise options!