Having the option to study remotely has opened doors to many college students and changed the way they experience their college years. The demands of remote study are different from the traditional way of getting a degree, and so are the students' needs. We've compiled a list of fun accessories that any remote college student will love, from organizational tools to things that keep you cozy. So, whether you've just started your distance-learning course or you're gearing up for your final year of remote study, you're bound to find something you like.
1. A Handy List Notepad
Being a college student involves juggling a lot of responsibilities. On top of your schoolwork, you've got extra-curricular activities, social and familial obligations, and household chores. Unless you're organized, keeping up with your hectic student lifestyle can get overwhelming. Having a dedicated list notepad to jot down all your to-dos and shopping lists is a great way to keep everything in one place. Look for a pretty notepad that is the ideal size to keep on your desk, on the fridge, or in your car, and that comes with a handy magnet back. Ensure that each page can be torn out and recycled when you're done.
2. A Super Snuggly Onesie
As a remote college student, you probably spend a large part of the day in sweatpants or pajamas. And why not? You might as well be comfortable while you're studying. To really feel comfortable and cozy, wear a fleece onesie with a college sports shirt underneath, for school spirit.  Whether you're sitting at your desk cramming for a test, listening to lectures, or chilling out with a movie, pretty patterned fleece onesies will keep you snug. 
3. A Quirky Heating Pad
It's easy to get chilly sitting at the computer for hours at a time, and a heating pad is the perfect solution. The warmth they provide is also fantastic for soothing aches and pains from hunching over your computer screen. And when summer rolls around, just pop it in the freezer, and you've got yourself a cool pad.
4. A Portable Coffee Tumbler
Whether you're a coffee, tea, or juice drinker, there's nothing quite like having your own special cup to drink from as you work, and this cute stainless steel coffee tumbler is an excellent choice for college students. The tumbler's double-wall insulation means your drinks will stay piping hot or chilled to perfection all day long, so if you get absorbed in your work and forget about your coffee, it won't be wasted. The unique "things to be grateful for" print is so sweet and inspiring to lift your spirits as you study.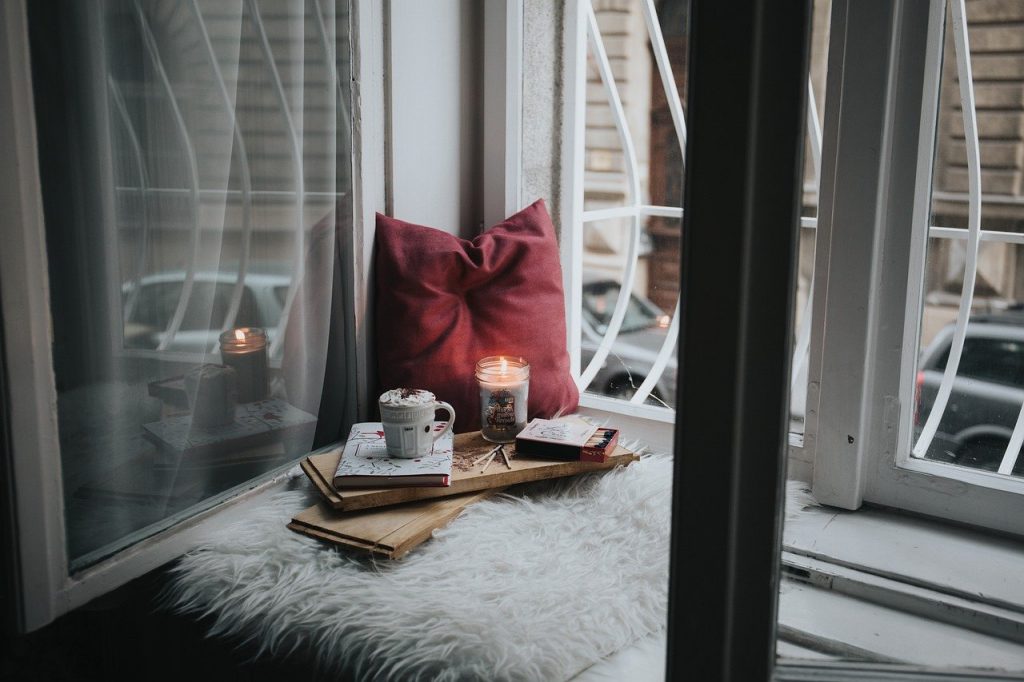 5. A Reusable Ceramic Jar Candle
When you're studying from home, it's important to make your work and living spaces as inviting as possible. One surefire way to make a room feel calm and relaxing is with a scented candle, and a beautiful ceramic jar candle with a pretty floral design is a lovely choice. What we love about a hand-poured jarred candle is that, once the candle itself has burned away, you're left with a gorgeous ceramic jar. The jar will look great on your desk and makes a wonderful pen pot.
6. A Canvas Pouch
Another way to store your stationery and keep your desk tidy is by using a handy canvas pouch. Maintaining an organized workspace is crucial for increasing productivity and reducing stress levels, and a simple item like this can help you achieve that goal. They're also a great way to store all kinds of items, from stationery to toiletries. It's absolutely perfect for carrying your essentials on a trip to the library or even on vacation.
7. A Multi-Use Lunch Set
When it's time to stop studying and grab a bite to eat, this quirky-yet-practical all-in-one lunch set will come in useful. At first glance, it just looks like a pretty mug, but it's actually a multipurpose piece of kitchenware that's ideal for students preparing a meal for one. Providing you with a mug bowl, plate, and bamboo spork, this set offers an excellent way to serve anything from soup and a sandwich to milk and cookies, whether you're eating at your desk, in the kitchen, or on the couch.
8. A Calming Puzzle 
With all the stresses of college, it's essential to take some time to relax and decompress, and doing a jigsaw puzzle is a great way to clear your mind. 
9. A Bright Water Bottle Carrier 
When you're studying from home, it's easy to spend all day inside the house, but we all know how important it is to get some fresh air and exercise every day. Going for walks is a great way to do both at once. Keep hydrated on your walks, hikes, or just while you head to the shops with a snazzy water bottle carrier. A fun colored or patterned neoprene option will keep your drinks insulated, and some even come with a handy adjustable strap making it totally hands-free. 
10. An Inspiring Wall Calendar
Digital calendars let you see your schedule laid out on paper to help you visualize the month ahead, and a wall calendar is the perfect solution. But calendars don't have to be boring; they can be pieces of art that brighten up your room.
The Key to Remote Study
As a remote college student, keeping yourself motivated to work can be challenging, especially as the winter nights draw in and the lure of the couch is strong. The key to having a successful experience as a remote student is being organized, creating an inspiring workspace, and giving yourself breaks to maintain a healthy work-life balance. 
Featured Image by dumcarreon from Pixabay