This year's Autumn season has brought about several stylish trends, but with winter closing in, you'll want to know which will still be in style through the cold of the winter months. Whether you're rocking mismatched earrings or an asymmetrical neckline, or a stylish and warm cape, these five Fall fashion trends will carry you through the winter and into next spring. Keep reading to learn about these stylish trends and where you can find them online and off! 
1. Asymmetry
Asymmetry is hot this season, from mismatched statement earrings to asymmetrical necklines and more. It dares to be different, pulling you from the comforts of matching and throwing your style into an entirely new space altogether. You'd be amazed at what a simple mismatched pair of earrings can do for an outfit and your fashion sense altogether. Asymmetry does require a certain level of confidence to pull off, but when done correctly, it looks great with just about any outfit. 
Asymmetry will carry you through the winter, and you can mismatch as little as or as much as you like. Fashion is all about personal expression, so be sure to add your own touch to the trend for the ultimate expression of style. 
2. Floral Patterns
Floral patterns may be reminiscent of the flowering buds of spring and summer, but they've made an impression this Fall with stylish floral dresses, blouses, and more. Luckily, floral patterns can be found on sweaters, long-sleeve shirts, and other winter attire, so this trend will be able to carry you through winter while keeping you in style. Every good wardrobe needs a cute floral blouse or dress, and this Fall fashion trend seems to keep coming back every year. 
Floral patterns come in many varieties, from bold and colorful patterns that pop to more subtle patterns that add a subtle elegance to the overall look itself. Choose simple accessories like pearl earrings for an all-encompassing look that's sure to turn more than a few heads. As you retire your dresses for the winter, pick up a few floral-pattern blouses for work attire or everyday occasions. 
A floral blouse and pencil skirt make the perfect at-work combination, or you can pair the blouse with some simple black khakis for warmth, comfort, and style wrapped into one package. 
3. Plaid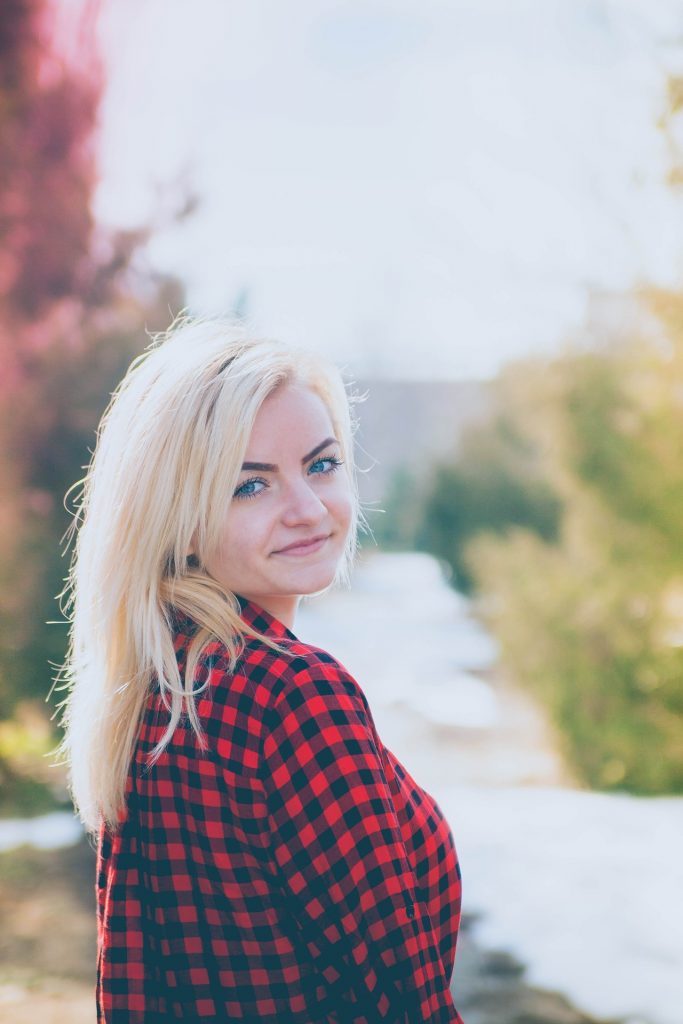 Plaid has made a comeback this season, showing off colorful lines and patterns on coats, blouses, and more. You can even get a plaid handbag if you know where to look! Brands like Chanel are behind the plaid trend this year, citing its simple but unique look. Plaid somehow both semi-formal and incredibly casual at once, and comes in more varieties than you can count. If you're looking for something simple but stylish, plaid is your go-to. We're not talking a lumberjack-Esque button-up shirt, either. 
4. Pearl Earrings 
What do pearl earrings go with? Pretty much anything! Perfect for cocktail dresses, blouses, and more, the simple elegance of pearl earrings is renowned throughout the world and in style this fall and winter. These aren't your grandmother's pearls, though they're certainly as stylish and elegant as those family heirlooms. Plus size and slim models alike can utilize the style and grace of pearl earrings, which are especially gorgeous when paired with cooler colors or neutrals. 
If you're not sure what to pair your pearls with, check out 11 Honore's plus size fashion options, or visit your local clothing outlet and get expert advice from a fashionista. 
5. Capes (Yes, Capes)
No, that wasn't a typo; you read it correctly. Capes are in this season, and we don't mean Supergirl's red cape. Chanel and Marc Jacobs both showed off this impressive new style this Fall, and the trend has caught on rather quickly. It can be difficult to find stylish outerwear that's also warm and comfortable for those chilly winter months, but capes solve both of those issues with style and grace. 
Everything from solid colors to animal print capes has been exhibited at fashion shows worldwide.  It's safe to say this trend isn't going anywhere for a while. Capes will keep you warm while providing the final touch to the outfit underneath, all while adding a certain level of bold confidence to your overall look. Have you never worn a cape before? No problem! Now that they're in style, you can try one out for the first time without feeling like an outlier. 
The Take-Away
From capes to pearls, this year's Fall fashion trends are keeping ladies in style for months to come. Each of these five trends is likely to carry over through winter, so you'll be both warm and stylish throughout those chilly winter months. Whether you choose a plaid overcoat or a solid-color cape, you'll look your best through winter 2019. 
FeaturePhoto by Anastasiya Gepp from Pexels