In 2018, more than 15 million people visited Scotland, representing an increase of 5% over the previous year. As tourism continues to expand in the region, more individuals both domestically and abroad are looking for the best ways to see the sites. Scotland offers several different flavours of attractions, from picturesque villages to ever-changing scenery of the countryside. If a trip to Scotland is part of the holiday to-do list, experiencing the region by train or car can prove to be the most enjoyable.
Getting the Best Holiday Experience
Before booking a holiday to Scotland, a travel expert from Money Pug suggests evaluating your options to compare holidays. Countless opportunities exist for inclusive getaways, bed and breakfast stays, and transportation from one location to the next. Searching for a holiday experience best suited to your needs is crucial to making the most of an upcoming trip, and comparing prices is a necessary part of the process.
It is also helpful to plan ahead for any type of travel in Scotland. The region has a free to roam invitation, meaning visitors are welcome to travel about as they wish, with the exception of private residences and military installations. However, as with any other holiday, residents of Scotland expect travelers to respect their space as if it was their own home. Weather is also important to understand in the area. Wind and rain are common, but that shouldn't stop you from venturing out. Finally, Scotland holidays are best planned for when travel insurance is included. Using a comparison site, you can find insurance options that fit your needs and protect your next trip.
Scenic Trips by Train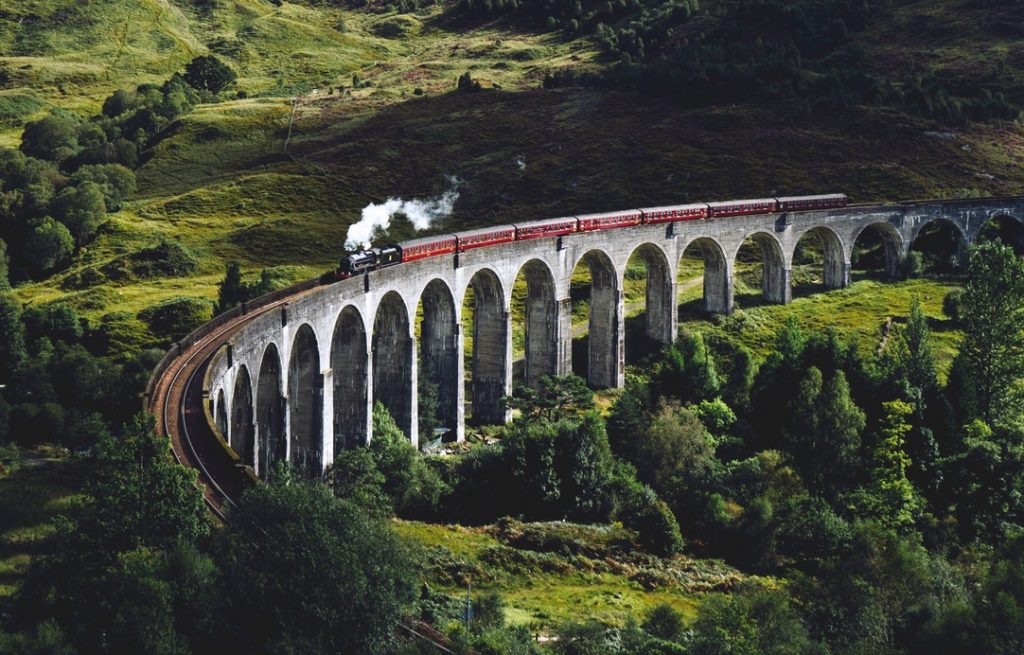 Now that you have an idea of what to expect when planning a trip to Scotland, consider how you'll take in the scenery of the sweeping countryside. Many travelers prefer to move about the region via train, and travel experts suggest this may be one of the best ways to do so. Here are a few options for scenic travel in Scotland by rail.
Scottish Rail
Trains through Scottish Rail are relatively inexpensive, and most travel on time from one destination to the next. The ScotRail system offers several different rail tours, including the Far North, which encompasses Inverness, Wick, and Thurso, and Carlisle, traveling through Glasgow, Kilmarnock, and Carlisle. Travelers may also experience Scotland's scenery on the Borders line which makes its way through Edinburgh, Gorebridge, and Tweedbank.
The Belmond Royal Scotsman
Another option to travel Scotland by train is the Belmond Royal Scotsman. This is a luxury train ride that offers an intimate experience for travelers. The train moves throughout the area with guided tours, including a whiskey experience or visits to castles and estates throughout the countryside. This travel experience is not inexpensive, but it boasts being one of the most luxurious ways to see Scotland by train.
Routes to Travel by Car
In addition to train rides, Scotland makes it easy to forge your own path by car. Travelers have the option to rent a cost-effective vehicle from many different places throughout near transportation hubs, so long as the primary driver is at least 23 years old and has a valid license to operate a vehicle. Drivers must also have a passport. Before renting a vehicle to see the scenic views Scotland has to offer, it's helpful to know specifying whether you want a manual or automatic transmission is necessary. Once you've covered these must-knows, here are a few routes to take on your driving journey throughout Scotland.
Glasgow to Glen Coe
Coming from either Glasgow or Edinburgh, driving to Glen Coe is one of the most famous treks travelers can make. Views of the mountains are undeniably picturesque, and the long bends in the road make for a peaceful drive. There are castle sitings, sculptures, and a museum along the way. The drive takes between two and three hours depending on the starting location.
Stornoway to Seilebost
Another option for driving to take in scenery of the region is making the move from Stornoway to Seilebost, Outer Hebrides. This drive requires a ferry ride, but offers beautiful landscapes and views of various isles. You may find yourself stopping at a local distillery or on the white sand beaches over a 46-mile journey.
Traveling in Scotland by train or car can create memorable moments that are completely your own. Be sure to plan ahead for the way you plan to travel, purchasing a holiday package or tickets in advance, and familiarise yourself with everything Scotland has to offer before venturing out.
Cover Image credits: Photo by Pixabay from Pexels