With the weather heating up, many people begin to look for the perfect addition to their summer wardrobe. However, finding the perfect outfit can be a challenging feat. In this article, we are going to look at some of the essential summer dresses you should have in your wardrobe for the upcoming summer months.
The White Midi Dress
If you want a simple dress to wear on a city break, a casual weekend or for drinks with friends, theWhite With Navy Stripe Mid Sleeve Mini Dressis the perfect choice for you. Not only is this an effortlessly stylish design, but it is the perfect dress for a casual weekend lounging around at home. It can also be dressed up with a faux leather jacket, tights and ankle boots for a night out on the town.
To further the look, keep your hair and makeup natural and add subtle accessories such as a necklace and stud earrings to tie the outfit together. If you are attending a night out, you can also add knee high boots and a leather jacket to give the look some edge without taking away from the casual nature of the look.
The Bright Red Dress
When dressing for the warm weather, there is nothing better than a bright pop of colour. With the Mae Dress In Red Daisy, you have the perfect casual look for a summer barbeque, a beach holiday and even cocktails with friends. The flattering pattern and waist tie are the perfect combination, making it perfect to wear during weekend adventures, whether you are running errands or enjoying a night out at the pub with friends.
To complete the look, pair this mini dress with ankle boots and a stylish pair of sunglasses. If you are wearing this look to the beach you can also pair it with a wide brimmed hat and wedge sandals to keep you cool as you enjoy the sun, sea and sand.
The Asymmetric Midi Dress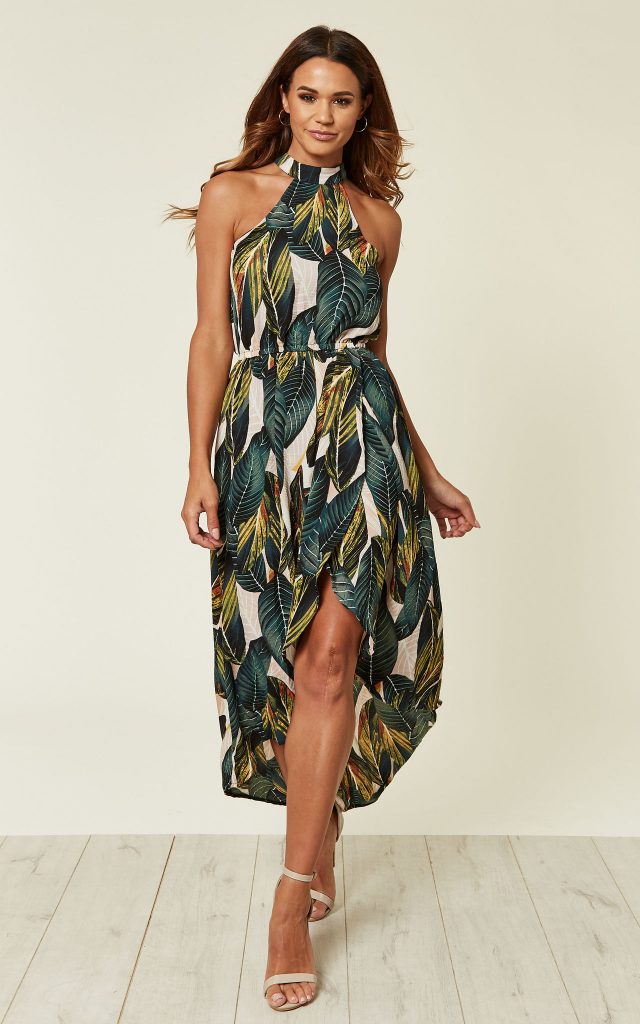 Another perfect summer dress is the bright and colourful Leaf Print Asymmetric Choker Neck Midi Dress. This stunning dress can not only be worn on a beach holiday, it can also be dressed up. With an elegant high-low hemline and cinched in waist, this dress creates the perfect silhouette on everybody type to compliment you perfectly and keep you feeling comfortable, regardless of where the night takes you.
The green colouring and unique neckline perfectly compliment the golden glow of a summer tan, allowing you to look summer ready regardless of the event that you are attending.
To complete the look, pair it with nude heels and simple accessories, allowing the bold design to capture the attention of the room. The halter neckline is also ideal for showcasing your neck without showing off too much skin, allowing you to showcase your tan without feeling uncomfortable.
This balance lends itself well to nights out as well as beach holidays. You can pair it with wedge heels to create the perfect summer style. In addition to this, there are a number of brand-new designs hitting the market every single day, allowing you to be on trend no matter the season.
With several summer dresses available to you, the perfect addition to your wardrobe is never far away. With a wide range of cuts to suit every occasion, as well as colours and lengths for even the most formal event, the perfect outfit can be found with ease.
Cover Image credits: Photo by Artem Beliaikin @belart84 from Pexels