How we dress has a much more significant impact on our day-to-day life than we might imagine. The outfits we wear reflect a great deal about our personalities and influence numerous impressions. Moreover, dressing up gives us personal confidence, which is why it is essential to emphasize style, no matter what occasion. 
Any woman who appreciates fashion and style knows that there is a specific dress code for every occasion. Sticking with that dress code can help you put together a perfect outfit for a confident, classy, and stylish look. 
You could wear a classy gown to a wedding and a pantsuit to a business meeting. However, some occasions are unexplained when it comes to fashion etiquette. For instance, what should one wear to a slumber party?
Now, what you wear to sleep at home is totally up to you, but what if you have some company. You may need to pull an all-nighter to study for an exam or finish up a work project, or you could only be hosting a late-night movie marathon. Whatever the reason might be, you can't attend a slumber party in a nightgown, and neither can you attend one in a high-end dress.
Therefore, in today's post, we are going to give you some ideas and tips on how you can put together the perfect outfit for a casual and fun slumber party. 
Comfort is critical:
When you are dressing up for a slumber party, you need to value support. You need to wear clothes that aren't constricting and allow you to move around naturally. However, you can't just show up at someone's home in your sleeping attire. Therefore, most of the outfits that are going to be mentioned in this post will try to bridge the gap between comfort and style. Keep reading to have the most stylish and elegant sleepover imaginable. 
Outfit 1: A Robe Dress: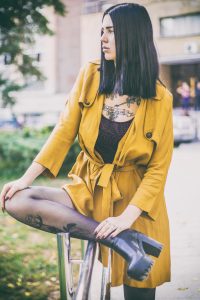 You may think that robes are usually only worn after a shower or when you get up at night. You certainly won't consider them stylish, but don't be too quick with your judgments. 
Robes have a stylish and classy twin called Kimonos. Kimonos are similar to robes in their cut and design, but they are made up of elegant fabrics in exquisite designs. Moreover, they are super comfortable. 
They look less like a robe and more like a wrap-around dresses made from silk. You can wear your nightgown under the kimono and look stylish and stay comfortable at the same time. Moreover, unlike other comfort-centered clothes, a kimono allows you to wear a belt around your hips, accentuating your hips and giving you an hourglass figure. Therefore, a kimono is a must-have if you are dressing up for a slumber party. 
Outfit 2: Pyjamas Set:
Pajamas are perfect if you want to look presentable yet not overdressed. Moreover, they are the ideal attire for hosting a slumber party. You can also make your slumber party pajamas themed. This way, everybody will have an easier time dressing up. 
When it comes to pajamas, there is a lot of variety. The tops can be sleeveless, tanks, half sleeves, or even full sleeves, and they are available as both button-downs and slip-ons. The bottoms can also be either shorts or long pants. However, the style of this outfit is determined by the materials. 
Silk pajamas are the way to go if you want an elegant and classy look, but silk isn't cheap. Therefore, if you aren't willing to spend that much on nightwear, you can choose from a wide range of satin and flannel pajamas that are super comfortable and stylish as well.
Outfit 3: The Classic Sweatshirt and Trousers Combo:
If you haven't noticed, sweatshirts and trousers are really in style these days. You can see girls wearing them as everyday outfits, and high-end clothing brands like Versace, Gucci, and supreme have also started making them. 
This is a perfect outfit for an afternoon of hanging with friends that turns into a sleepover. They are super comfortable, yet hip and vogue as well. You can get them at different price ranges and in different styles. 
Though a sweatshirt is suitable for winter, you can go for a stylish t-shirt in the warmer seasons. You can also wear your pajama shorts under the trousers for a more comfortable sleeping experience. 
If you want your outfit to stand out, you can have it custom DTF printed with any design of your choice. There are loads of online stores that do t-shirt screen printing. You can order a t-shirt or sweatshirt from them to add a personal touch to your outfit.
Therefore, if you are hosting a sleepover at your home, or going to one, pull out your most stylish sweatshirts and trousers.  
Outfit 4: Onesies: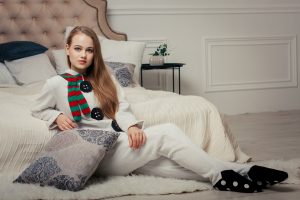 Another option for a slumber party outfit is a cute and comfortable onesie. Onesies are like jumpsuits with long sleeves that are perfect for winters. They are perfect for people who are a child at heart, especially those who love bold patterns and designs. 
Though this outfit is super comfortable, it might not be the best option if you have to go to the bathroom a lot. Still, a onesie is a great outfit for a fun and exciting sleepover with your friends. 
To sum it all up, dressing up to look confident and classy on every occasion is very important. Not only does it make us feel better, but it also helps us make a good impression. Though the norms and styles of dressing for most casual occasions like weddings, meetings, and dinner parties are well-defined and easy to navigate, there are certain occasions like slumber parties, for which it is challenging to get ready. However, if you follow this post and try the outfits mentioned in it, you will be able to look elegant and fashionable even at a slumber party. Therefore, we hope that you find this post interesting and informative.
Author Bio:
Liam Bold is a fashion student based in France. He spends a significant amount of time working for trends on the internet and loves all the high street brands. He regularly shares his ideas about how to get better in style and to put together outfits. You can check out his ideas on this website.
Featured Photo by Kate Stone Matheson on Unsplash