You want the very best wedding band your money can buy. Quality and price are crucial aspects to consider when wedding shopping, and one of those shouldn't come at the expense of the other. While comparing venues, tuxedos, and florists, you could become quite overwhelmed trying to size-up all the pros and cons of every option, especially when committing to something as long-lasting as a wedding band.
You deserve a ring that is both affordable and lovely. Searching for the right band should be an exciting process, not a stressful one. The perfect band for your price point is out there. For your convenience, let's review well-known jewelers Noémie and Blue Nile to discern who has the better value with your budget in mind. 
Noémie Vs. Blue Nile
The Blue Nile is recognizable for the array of options it provides for every aspect of a ring. They feature 104 designer rings and over 1,000 other wedding band selections to browse. 
In contrast, Noémie focuses on curation and a more limited selection of timeless pieces they love. They display 23 fine rings within their wedding band collection, including one custom ring builder with multiple design possibilities. Let's explore how each jeweler competes with one another by comparing four styles.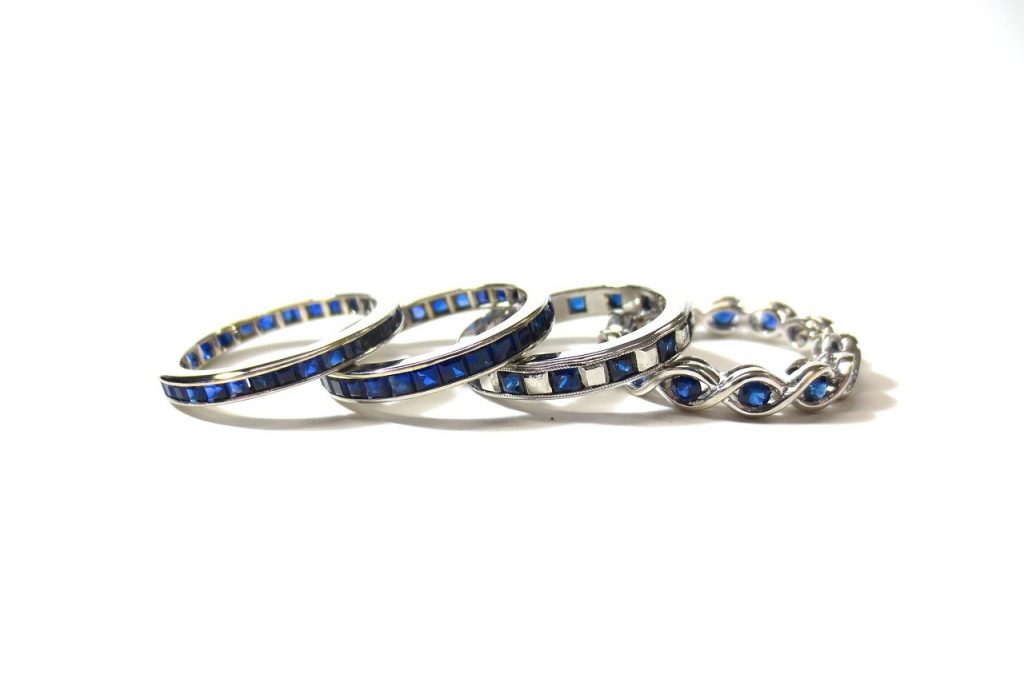 Noémie And Blue Nile On Four Styles Of Rings
To truly compare these two wedding ring designers, we're going to walk you through their options for four different styles of rings so that you can make an informed decision.
18K Gold Diamond Eternity Band
Both Noémie and Blue Nile feature classic diamond eternity bands as a wedding band option. Blue Nile's Comfort Fit Round Brilliant Diamond Ring includes the choice between platinum, 14-karat gold in rose, yellow, or white, and 18-karat gold in yellow or white. Your options range from a 2-5 carat total weight, causing your total to span from $4,390 to $17,990 depending on which material and carat total weight you select.
Noémie's Diamond Eternity Band Ring comes in either a one, two, or five-carat weight. For this attractive ring style, Noémie provides material options of rose gold, white gold, yellow gold, and platinum. Notably, Noémie uses VS clarity diamonds, which makes their diamonds entirely comparable to Blue Nile's quality. The numbers don't lie. When comparing Noémie to Blue Nile's 18k gold diamond eternity band at any carat-weight, Noémie is the more affordable option, ranging from $1,760 to $13,240. 
Platinum Baguette-Cut Diamond Eternity Ring
Baguette-cut diamonds are a well-loved option for those who prefer a geometric motif and vintage style. Blue Nile's The Gallery Collection Baguette-Cut Diamond Eternity Ring in platinum displays VS2 clarity diamonds with an average G color. The diamonds used in size seven ring contain a 1.13 total carat weight, with a price point of $4,950. It might be necessary to note that the reviews on this band are relatively low. To contrast, one highlight of this ring is that it displays its striking diamonds the whole way around the band.
Noémie's Baguette Diamond Band Eternity Ring in platinum also displays elegant baguette-shaped diamonds around the full band. This ring shows VS clarity diamonds with an average F/G color, putting its grade slightly ahead of Blue Nile's diamonds. Additionally, Noémie's Baguette band boasts 150 reviews with an average five-star rating. While Noémie's ring contains a lighter carat-weight at 0.84, the value is still the best by a landslide at $1,880. This timeless ring maintains a luxurious feel to accompany your wedding and elevate your style.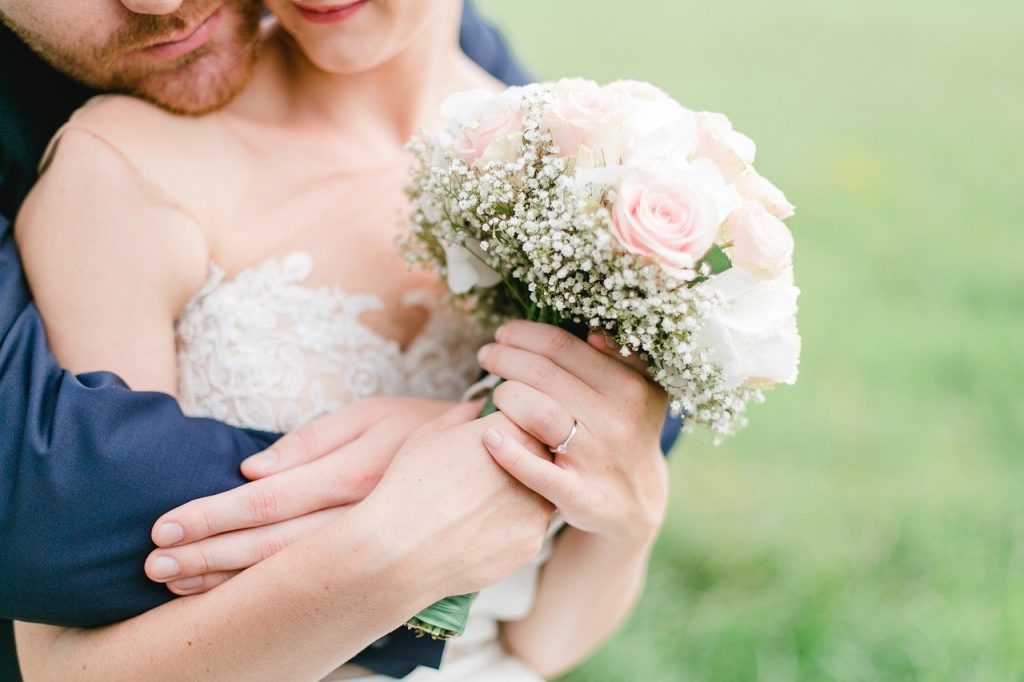 Three-Row Micro-Pavé Band
Pavé bands are a tasteful wedding band option to upgrade an engagement ring or to wear solo. Blue Nile's Trio Micropavé Diamond Wedding Ring comes customizable in either 14k white gold or 18k yellow gold. Ranking slightly under Blue Nile's previous diamond clarity, this band's diamonds fall into the SI2 category. These diamonds total at a 1/3 carat weight, with 73 diamonds decorating the band. The price point for Blue Nile's micropavé band is $1590 for the 18k gold option.
Noémie's 3-Row Pavé White Diamond Band presents four material options for its band: rose, yellow, white, and black gold. This ring displays an astounding 165 dainty white stones in VS clarity and F/G color. Noémie's 3-row pavé band also raises the bar by offering a 3/4 carat total weight for a great price. An 18k yellow gold band in this style is $1690, putting this ring's price just over Blue Nile's. Offering nearly triple the carat weight and multiple 18k gold material options, this pavé band is an incredible find. 
Bezel-Set 18k Gold Band
A Bezel-set band is a unique way to display your diamonds securely in a round, individual settings. Blue Nile's Bezel Set Diamond Eternity Ring offers six band material variations, including 14k gold, 18k gold, and platinum. Twenty to twenty-four diamonds comprise this band in VS2 clarity and an average H color—a rank slightly lower than Blue Nile's previous diamonds but still in the "near-colorless" color bracket. At a 1/2-carat total weight in 18k gold, this band's price is $1650.
Noémie's Bezel Diamond Ring allows five choices for band material, in 18k gold and platinum. The five-star ring exhibits fine milgrain details and brilliant stones hand-set into the bezel settings. Possessing an average VS quality of clarity and average F/G color grading, this bezel-set piece stands just above Blue Nile's. In a 1/2-carat weight, the band is only $940—almost half of Blue Nile's ring. When comparing both rings at a 1/2-carat total weight in 18k gold, Noémie's ring emerges as the clear choice for worth and craftsmanship.
Who's The Outstanding Choice?
Your time is too precious to spend on comparing all the details of multiple wedding bands from numerous jewelers, so we've gone ahead and done it for you. So far, we've explored four ring styles from each brand, noting the material options, clarity, color grade, number of diamonds, and price for the carat total weight. 
The rank comparison is evident when viewing the Blue Nile and Noémie's pieces next to one another. In case you'd like to review a few more features of Blue Nile and Noémie, let's examine some of the extra advantages each brand offers.
Returns And Shipping
Your satisfaction is a priority to both Blue Nile and Noémie. Should your wedding band not meet your expectations, both jewelers offer free returns within 30 days of the shipping date. 
Each jeweler also provides free shipping on all orders, but it's important to note that Noémie invites you to join their email list to receive this benefit. This perk sets a standard for customer care in fine jewelry and may help you decide which jeweler fits your needs. 
Ethically-Sourced Diamonds
Both Blue Nile and Noémie use conflict-free diamonds. Notably, Noémie offers a choice to use a lab-mined diamond in a few ring styles with an added discount. Whether you choose lab-mined or naturally-grown diamonds, all diamonds from Noémie are ethically-sourced. While you're comparing the quality each brand offers, both brands may give you some peace of mind about the stones' origins as you decide what's right for you. 
Ease Of Shopping Experience
Experience is an essential factor to evaluate when shopping for wedding bands. As we mentioned, wedding shopping already has many choices and hard-to-navigate decisions. Perhaps you're the sort of person who prioritizes a good deal over every other factor. While finding the best value for your money is a worthy goal, don't underestimate the benefits of a browsing experience that puts you at ease. 
The Blue Nile and Noémie differ considerably in their online browsing layouts. Blue Nile's vast catalog may be of interest for personalities that enjoy skimming tedious details for extended periods to determine that their choice is the best, marginally. After scrolling through numerous fields related to your exact preferences on the cut, price range, clarity, and carat weight, Blue Nile provides a list of hundreds of stones so that you can choose the exact quality of diamond for your band.
Those who want a more straightforward, user-friendly browsing experience may be more interested in Noémie. The pieces are laid out in a natural, uncomplicated way. They still provide their customers with the ability to customize the metal used in each ring, but the layout is more easily understandable for the untrained buyer. By displaying beautiful photos on their easy-to-navigate site, Noémie makes shopping a comfortable and elegant experience.
Noémie Leads In Quality, Affordability, And Experience
Often, a customer may feel forced to decide between catering to their budget or their taste. They may feel cornered into choosing between the quality of the product and their shopping experience quality. 
After examining the Blue Nile and Noémie in several categories, there's good news: you don't have to choose. Noémie makes buying fine jewelry a seamless experience by offering quality pieces at an affordable price. Finally, you can select a wedding band that suits your tastes while knowing you're getting the deal you hoped for and the value you deserve.
Featured Photo by Danielle De Angelis from Pexels