We all have certain things we'd like to do at least once before we kick the bucket, so to speak. Whether it's trying something daring or going to visit the birthplace you've never been to, there are endless ways to keep things spontaneous and interesting before life gets in the way! We've come up with a compilation of the top things we think everyone should try at least once in their lifetime, many of which can be done right here in Dubai! Keep reading below.
1. Go on a desert safari
Nothing beats taking in the sunrise or sunset while in the desert, and the Arabian desert is filled with adventure and leisure! Whether you observe the indigenous wildlife, take a leisurely ride on the back of a camel or horse, or get your adrenaline pumping by dune bashing in a 4×4 vehicle, the opportunities are endless. Need we say more?
2. Take a cooking class
There's nothing quite like the experience of taking up a cooking class. Whether you're an amateur cook or a self-proclaimed master chef, having a professional lead the way while learning a new dish is always an exciting experience. Plus, there's the added convenience of having all the required utensils, cookware, and ingredients at your disposal! 
3. Make a solo travel trip
Sounds scary, doesn't it? However, flying solo may be the most liberating experience you'll ever enjoy! Traveling alone can expose you to a new and exciting side of yourself, plus it comes with the added benefits of being able to enjoy all the me-time you want and visiting landmarks you want to see. Sometimes group traveling can be a drag because you've got to tick off things on other people's bucket lists that may not interest you. Forget being a sport, and take up solo traveling instead!
4. Face a fear
Whether it entails a fear of heights or a fear of water, conquering your biggest fear is something riveting and liberating! Dubai has many adrenaline-pumping activities to get you started, ranging from scuba diving to soaring over the illustrious Palm Jumeirah after hopping out of an airplane. Whatever your fear, conquer it.
5. Learn to scuba dive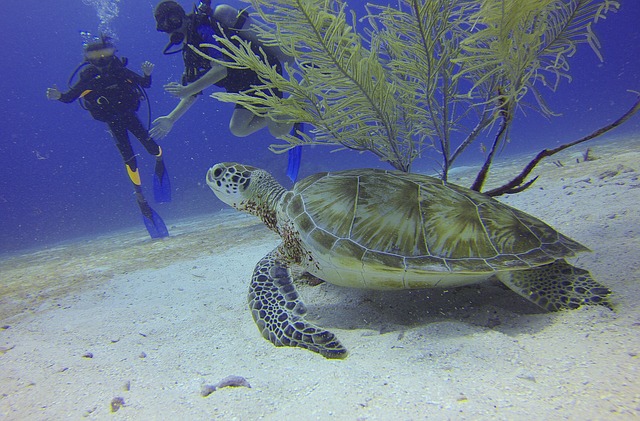 Dubai now boasts the deepest diving pool in the world called Deep Dive Dubai. Scuba diving is an incredible experience that will take you to new heights (or should we say depths!), with Deep Dive Dubai boasting a 60-meter deep pool with a sunken city at the bottom for those looking to explore.
6. Work abroad
Living and working abroad is becoming an increasingly popular way to trot the globe – without having to leave your current job behind. If the company you work for is flexible on remote working or has offices in a country you wish you visit someday, take the leap of faith, purchase that plane ticket and just do it. 
7. Visit a world heritage site
Heritage sites are dripping in history and mystery alike. If you're a culture vulture, be sure to Rove on down to various heritage sites on your travels to Dubai, with one of the notable ones being Khor Dubai, also known as the Dubai Creek in English. As a natural saltwater creek, Khor Dubai is rich in heritage as the place where some of Dubai's most significant trades took place. The saltwater creek welcomed merchants from all over who exchanged gold, spices, perfumes, and other trade items. Travel back in time with a trip to this iconic landmark.
8. Tantalize your taste buds with something foreign
While crickets and the like may not be for everyone, test your taste buds at least once with something new and foreign. Dubai is brimming with many traditional Middle Eastern dishes met with international restaurants peppering its shores and city streets. Try something you've never had before and something you generally wouldn't attempt at home to really make things interesting! Our recommendation? Opt for camel cuisine, such as camel milk chocolate from Al Nassma in The Dubai Mall.
9. Do something original in a unique place
Ticking something off your bucket list that you may not easily find in another country is a must-do! Dubai has many awe-inspiring activities to get you excited about, including skiing in the desert at Ski Dubai, the first indoor ski resort in the Middle East. Another experience is hopping into a glass cabin aboard Ain Dubai, the city's latest record-breaking icon as the world's largest observation wheel. Coming in at a whopping 250 meters high, it's something that you have to experience at least once! Other Dubai-based experiences include heading to the top of the Burj Khalifa, swimming with piranhas at The Green Planet, or visiting AquaFun, the region's largest inflatable water park that spells out "Dubai" when looked at from a bird's eye view.
With so much to experience in Dubai, you certainly won't be short of activities with which to fill your bucket list. Perhaps the only thing left to do is book your accommodation! Head to the Rove Hotels website to book your eclectic stay in one of our many hotels scattered across the Dubai cityscape. Get started with your adventure in the desert. We can't wait to welcome you as you discover what it's like to live it up in Dubai!
Featured Image by xisdom from Pixabay