You simply don't like the look of your kitchen at all. The imagination of spending a lifetime saving on kitchen remodeling is also a scary tale. This is the dilemma many people face in the confines of their homes. In reality, remodeling is not affordable as many would think.
The cost can go up to $25,000.  Some are forced to borrow from banks to meet these expenses. The interest rates they shoulder is a tale for another day! It doesn't have to be that way. There are affordable ways that can help you update your kitchen without paid remodeling. The kitchen is an important room and effective fixes can go a long way to help you realize your dream kitchen. If you're up to the task, here are the tips:
Change the colors in your Kitchen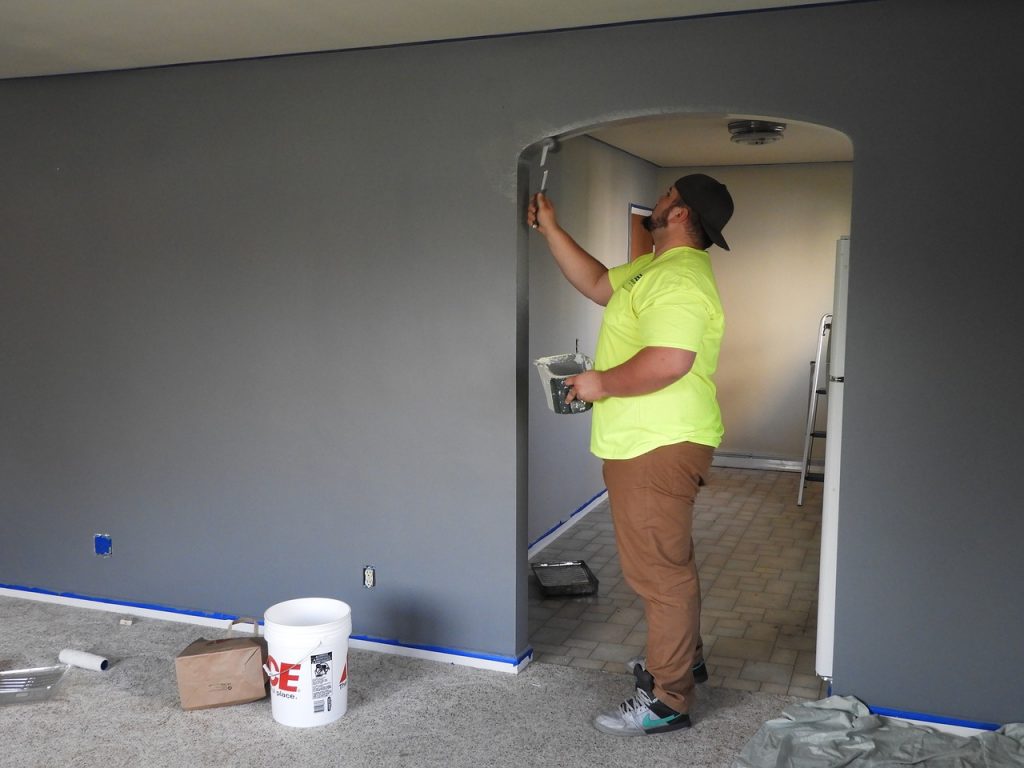 Don't undermine the impact of new paint in your kitchen. The aesthetic look that comes with repainting and a set of new curtains is truly refreshing. No extra labor is required if the intent is to coat the appliances with new paint. When you get vinyl on the job, the stainless steel on the stove must bow with a pretty new look.
A little more may be needed to change the curtains that will match the new look. As you know it's the kitchen curtain that absorbs all that smoke which escapes the recommended outlet. Sometimes they bear the smell. Changing them alongside new paint is a great way to make a big difference. You'll have saved much instead of paid remodeling.
Change the lighting set up
Lighting plays a welcoming role that you could be looking for from paid remodeling. Many people consider the lights to be kitchen jewelry. You can make your kitchen stand out if you get the lights right. One of the best ways is to hang the pendant lights. You probably not settling for paid modeling to avoid the hefty charges. While shopping for new light fixtures, find affordable options.
Do a little research on magazines and know the expensive offers in the market. On the contrary, go for lookalikes and let the pendants do the remaining job. The surety is, no one will believe the amount you spent to get that standard in your kitchen.
Buy new appliances
Paid remodeling may be due to outdated appliances. There are cases when the dishwasher makes you weary of cleaning. Not because you lack the skill, but because it has served for decades without replacement. This is one step that requires brevity.
You can save big by getting used appliances in the local store. Make them work in your kitchen enjoyable without involving any professional help. The term, "used appliances" is misrepresented to mean old gadgets. Conversely, it could be that refrigerator that could not fit the design in your neighbor's house! Therefore, be bold enough to get new appliances that work efficiently. That way, you'll have avoided the cost of paid remodeling.
Employ some little art
This is one area that is largely neglected due to a lack of knowledge. Instead of focusing on expert tasks such as installing cabinets, do simple jobs. The newness that comes with floating shelves cannot be obtained even through paid remodeling. Those rustic ledges hanging loosely over stack dishes is all it takes. Moreover, you can attain extra-beauty by mixing colors and creating a unique theme. All these materials won't cost you much but will give you a value comparable to remodeling.
Update your Cabinet
It is only fair that you don't replace your cabinets when they're still in good shape. The problem could be the arrangement of the glassware and bowls. Instead of replacements, remove the cabinet fronts and give the kitchen a new look.
An eye-catching arrangement of bowls alongside little hooks that present your caps will be true to the efforts. Even if you don't enjoy the display, you can replace the cabinet pulls. You can also attain the high-appeal by sanding. Put in other words, updating the kitchen only requires an artist's mind.
The bottom line is that paid remodeling is not a sufficient condition for a beautiful kitchen. You can upgrade your kitchen and attain the aesthetic look without paid remodeling.
Otherwise, Keep the Cabinets, but Change the Doors
New cupboards are a major lump of the normal kitchen rebuilds cost (30%-35%). In any case, more often than not, it's just the fronts that need refreshing.
An extraordinary low-bother approach to save money on expensive new cupboards is to purchase just the fronts from a maker, similar to these flawless blue ones that were introduced on existing cupboards.
Repainting or recoloring
Adding new trim or embellishment
Removing entryways for an open-rack look
Pay for new machines; however, go with the essential brands
New machines can make your kitchen feel fresher, yet the additional cost can send your kitchen redesigning spending plan into a spiral in a rush.
As indicated by Brook, you can spare a pack by maintaining a strategic distance from the extravagant architect kitchen marks and going with whatever is accessible at a bargain at your neighborhood tool shop. In case you're courageous, you may even need to consider purchasing utilized apparatuses push off during another person's kitchen update.
"Machine deals happen a few times each year, more often than not during major occasions," says Brook. "Look at the office and box puts away set aside to 40% off retail. You can likewise shop classifieds on Facebook and Craigslist for utilized machines."
Use plates as divider stylistic layout
Basically, stick them to the divider with removable strips, or balance them with plate holders. Investigate your china box for a cherished legacy, or gather up a couple of brilliant and modest ones from a yard deal.
Sell Your Old Stuff
Similar stores and sites that offer deals on used materials can likewise enable you to sell your own. Frequently, the stuff you detach when you re-try a kitchen – stuff like counters, apparatuses, and lighting installations – is still consummately usable. Instead of simply dumping it in a landfill, check whether you can discover a purchaser for it. That old splendid yellow stove you constantly loathed could be ideal for somebody completing a vintage kitchen rebuild, and the cash you get for it can help counterbalance the expense of your new treated steel go.
Save money on Labor
As per HomeAdvisor, around one dollar out of each four spent rebuilding a kitchen is for work – handymen, circuit repairmen, woodworkers, etc. The greater amount of that work you can do yourself, the more cash you can shave from your financial limit.
Keep the Footprint, but Change the Look
Send a soiled or dated kitchen down the transfer with two updates that have a major effect: another backsplash and ledge.
Together, they spread a dreadful part of the surface zone, making way for an absolutely new kitchen look.
A little paint on those cupboards and it resembles a pristine kitchen.
The ledge imagined is quartz, an ageless decision, yet on the off chance that it's not in your financial limit, there are a lot of DIY ledge choices, as well.
Conclusion
The bottom line is that paid remodeling is not a sufficient condition for a beautiful kitchen. It's expensive and will likely keep your kitchen out of reach for some time. Stated here are viable options that will land you in the same destination. You can upgrade your kitchen and attain the aesthetic look without paid remodeling.
Cover Image credits: Photo by Mark McCammon from Pexels