Most women know the importance of leaving a good lasting impression with shoes. That said, consider your outfits before picking a pair of shoes. Do not compromise when it comes to comfort since you will probably be walking around in them the whole day—sometimes, deciding on the kind of leather boots to wear is a challenge. To make the task more comfortable, you can consult a stylist or observe the latest designs. Visit De Wulf shops to understand various grades of leather used to make leather boots.
The best thing about women's leather boots is that you can wear them comfortably for the most significant part of the year. When you are likely to switch to sandals in the summer, you might come across a leather pair that looks almost like boots with the perks that come with sandals. Once you wear your leather shoe pair, you will discover why they are worth the high price tag. Let us look at other primary reasons you need to make leather shoes part of your everyday outfit.
The Benefits of Choosing Leather
Made of Long-Lasting Material
Any woman who knows the importance of good shoes knows quality in terms of durability comes at a cost. When purchasing a pair of shoes, your greatest hope is that they will last longer and save you the cost and time spent on trying to fetch a new pair. Unlike in synthetic leather ones, one part of good leather shoes is the exceptionally durable bottom side. The treads do not wear off, so you can forget about the anxiety of sliding in ice or mud. 
Sufficient space for your feet
 Most women's shoes are tight and tend to be uncomfortable, especially on hot days when your feet get sweaty. This feeling is uncomfortable and rather unhygienic. Breathability is one of the things that leather shoes hand to you. The result is that your feet will not sweat and that they will be free from odor. 
Weather Resistant
Everyone wants to own a pair of shoes that can endure all types of weather, mostly rainy and winter season. Synthetic leather can suffer from water-related damage; leather, however, is waxed to prevent damage. Also, they do not grow mold from moisture since they hardly store any. If you are a busy career woman on her feet for long hours, you want to go for boots that can repel some heat from the sun. 
Fits Snuggly on your feet
The minute you wear a pair of leather shoes, a new wave of confidence comes over you. Women value their confidence, especially when in the outdoors. That is why a comfortable, well-fitting pair of leather shoes is essential. The more you wear them, the more they take to the form of your feet so that every toe is in place.
Simple Maintenance
 Women's leather boots are easy to maintain; all you require is to have the right kind of polish to clean them. Shoe experts recommend that you treat them with the care you would a loved one, and they will reciprocate. You can use rubbing alcohol or any other certified leather cleaning products.
Settings You Can Wear Leather Boots In
Leather boots can pair well with a variety of outfits. Tall leather boots, however, can be challenging. This variety of leather shoes is appropriate for causal settings where you are likely to wear more revealing clothes. Wear them if you are going to wear a sundress, and they will go a long way in complementing the look. Remember, the goal is to experience comfort, all the while standing out from the crowd.
As a woman, sometimes selecting the right outfit, leave alone shoes, can be challenging. There is a method for choosing the appropriate pair of leather shoes for every occasion. Go for the kind of boots that have a simple but elegant design. Laces are enough decoration for your couple of leather boots. You do not want to walk around, attracting unnecessary attention.  
 One more consideration that you can make to select the right kind of boots to wear is by looking at the color. Go for boots that have basic themes like black or brown rather than pink or shiny ones. Simple colored boots are comfortable to wear and style with your favorite outfit, especially when you have an event to attend. 
Mind the point about ankle boots when it comes to wearing them at a particular time. Wear them to the office to achieve a respectful, funky look. The good thing about these shoes is that you can wear them when going out on Friday nights or when having a simple casual day.                    
Styling Ideas and Tips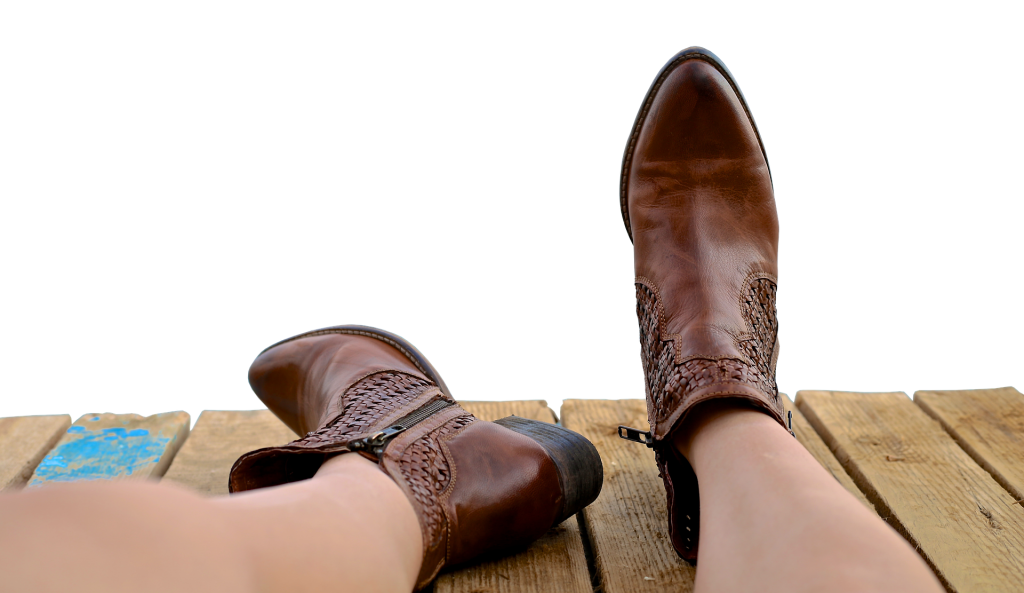 One thing that makes the world an exciting place is that women have different tastes when it comes to style. Whatever your style is, you can add a pair of leather boots, and the outcome will be breathtaking. Ankle boots are a more straightforward variety of leather boots to include in your outfit since they are applicable in various settings. You can wear them with your favorite pair of jeans, a dress, pants, and a skirt.
Wearing ankle leather boots with jeans is a safe style for beginners. Ensure that you wear an equally good top, such as a sweater top. When you put this outfit together, it makes the ultimate fall outfit. The hems hang high enough to allow the audience for your ankle boots. You can go ahead and play around with the color of your shoes for a fun element.
Sometimes all you want is a laid-back day with the right comfortable outfit. To achieve this, go for boots that have a simple color such as brown. You do not have to always wear jeans for your shoes to pop. You can also pair them with dress pants. Cropped Culottes outline your feminine form, especially when you combine them with black boots.
When pairing your boots with a skirt, make sure it is a long flared one. Dresses with flowery decorations stand out when you pair them with the right boots. If it is a maxi dress, you probably should opt for a black bootie with a zip. To be comfortable throughout your day, go for boots that have a low to medium heel. You will have an easy time walking in them.
Ankle boots, paired with leggings, is one of the most popular trends. Go for the figure-hugging leggings that outline your figure and complement your look. Throw on an oversized sweater top for that casual look along with your ankle boots, and you will not regret the outcome.
High-Quality Genuine Leather Boots for any Occasion 
If you understand your style, you will have an easy time identifying a pair that rhymes with your taste.  Women's leather boots are a bit pricey. Only by wearing leather boots by this designer do you understand what all the fuss is about.
Never in a million years will a true leather boot connoisseur complain about how their pair of shoes has not served their needs. Try embracing the idea that leather boots are a funky fun way to enjoy fashion as well. Leather boots are the way to go for women who value simple elegance at its best.
The fashion market has a whole lot of designs of leather boots for women to choose from. Finding a good pair of leather boots is easy, thanks to designer DE Wulf, one of the most significant contributors to women's fashion. Go to his online shop, and you will come across various leather shoe designs by him. He makes shoes that women fall in love with since they can wear them with multiple outfits. His designs are available with incredible discounts.
Featured Image by StockSnap on Pixabay