This year has been epic. Because of the coronavirus pandemic, most people have been stuck at home, following the work-from-home trend. As a professional woman, you have probably never thought that you would dress casually for this long before. Could be, you focus on smart official dresses on most of your shopping trips. Maybe the pandemic's fiasco has got to your wardrobe and got you considering a total wardrobe makeover. Let's look at what this new Casual Wear trend looks like.
"But how do I go about it?" You could be wondering. Casual is just casual, right? Wrong. Casual is more than just that. It is a different way of being smart and sexy, even in these dull times. With casual wear, you can still feel as smart, comfortable, and attractive as you do in official attire.
Read on and find out how.
Joggers
Since we are stuck at home, joggers are the best fit for this season. A wardrobe staple, joggers are the ultimate choice for a chill day – there have been many lately. Joggers can make you look cute and feel comfortable as well. They are also easy to find in shops around or, better yet, on our online jogger's shop. Like everyone else, get some grey joggers and add some comfort to your chill days. You can also look stylish in leather joggers paired with a cool t-shirt as you binge on Netflix. Look sexy indoors for your man in your favorite joggers, a vest, and some slay slippers. It does not matter if you will be snoozing all day. Your man will enjoy the dope joggers look you will be pulling off. Every man would.
Whether you are chilling indoors with your girls, your man, or alone on munchies-mode and binge-watching movies, you can never go wrong with joggers.
Loungewear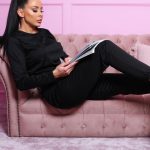 Though this year has been crazy, sometimes a girl wants a luxe look. If you are out for some laid back time lounging, then you should get some loungewear. There is no better place for this luxe attire than our shop, which is full of the best loungewear you can ever get. The loungewear sets are in different styles, sizes, and colors, making them the perfect fit for all women with different tastes. So, do not be confused anymore. Get yourself some sexy loungewear for your snuggly indoors times.
How about when you need to run errands, can you still put on some loungewear set? Well, yes, you can. Loungewear is good, whether you are indoors or outdoors, taking care of some errands. The cable knit or grey loungewear sets are perfect for your daily outdoor activities. Spice up your look by adding a leather jacket and some cool trainers. If you are not a fan of grey, there are loungewear sets of many colors like beige that you can choose. For instance, you can try a white loungewear set paired with a dope denim jacket over it. How slay is that?
T-shirt
There is no better time to add some t-shirts to your wardrobe. They are great because you can wear them indoors and outdoors when running errands. One look that has never gone out of fashion is the classic jeans and t-shirt combo. Though simple, this combo can give you the ultimate winning look. You can also slay in a women's T-shirt and a girly skirt. Better yet, look glam in t-shirt dresses that have become very fashionable. Put on that tee and slay in it all day.
The good thing with t-shirts is that you can style them up differently for whatever occasion. If you want to go out for cocktails or hang out with friends, t-shirts will still give you that luxe look that you want. You can go for the classic t-shirt and jeans or rock an oversized tee with boots, preferably the knee-high ones. You can also team a t-shirt with a nice tight mini and some heels for some banging hot look.
If you are looking for some chill vibe, the slogan t-shirts would be the best choice. You can pair these with mommy jeans and some trainers for a cute, chill look. You can also rock band t-shirts or long t-shirts for the gorgeous look that you deserve. You can style your t-shirts with the bead or pearl accessories for a more stunning look.
Casual Wear Conclusion
Do not worry about what to wear anymore. With these styles, you will be the best-dressed lady wherever you are. So, get yourself some joggers, loungewear, and T-shirts and sail through these times looking glam.