There's definitely more than one way to transform a casual outfit into a classy statement, although there are a few key items that you will need to add glam to a bland background. Items such as heels, red lipstick, and dazzling accessories will be necessary. Whether you are dressing up a casual outfit to be appropriate for work, or you simply lack adequate time to get ready for an anticipated social event, here's how you can transform your look from comfortably casual to elegantly classy in a few minutes. 
Pair Heels With Jeans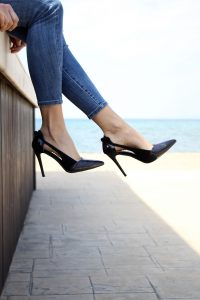 We all have that one pair of jeans that serve as our go-to choice, no matter the occasion. However, if you're heading out for a date night, a pair of jeans and sneakers really won't do the trick. You could consider pairing your favorite skinny jeans with an elegant pair of high heels. The more detail on your chosen heels or the more vibrant the show color choice, the more classy your casual outfit will look. You will be able to complete the look with an oversized casual t-shirt or even a button-down blouse. If you are planning on rocking a casual t-shirt and want to be able to stand out in the crowd, you could consider t-shirt screen printing that will help you customize your bland t-shirts and transform them into one of a kind must-haves that will complete your look while ensuring you are able to make a memorable statement.
Transforming A Casual Dress
If you are hoping to wear your favorite summer dress or maxi dress without looking too casual, you should plan your accessory choices to ensure ultimate glam as possible. Opting for a statement pendant necklace will be perfect for a flowing maxi dress while a delicate chain necklace would be best for shorter length dresses. Once again, you should complete your look with a pair of elegant heels, although, this time, you should focus on selecting a more plain tone shoe rather than appearing excessive with vibrant colors and designs.
Blazer Jackets
The perfect fit blazer jacket can dress up almost any outfit with ease. Pair a jacket with your favorite comfy t-shirt and jeans, and your look will instantly be transformed from casual to classy. For this look, you should also consider wearing a pair of black or red heels along with charming red lipstick to really make a statement. You could include a longer length pendant necklace to tie your look together.
Elegant Hairstyles For Casual Clothing
One of the final finishing touches on your outfits should always be your hairstyle. Whether you are dressing up casual clothing or preparing for a regular day at the office, the state of your hair will have a massive impact on your overall look. Updos are widely considered the more elegant solution for longer length hair, which is why it would be best to opt for a high ponytail when pairing your favorite jeans with heels or a blazer jacket.
Featured Photo by petr sidorov on Unsplash