Any self-respecting Mean Girls fan can point to one or more ways the movie influenced her closet in the early aughts. From the numerous Juicy Couture tracksuits sported by Queen Bee Regina George (Rachel McAdams) to the shimmery gloss and smudged liner of good girl-gone-bad Cady Heron and the general preponderance of various shades of – say it with us now, "On Wednesdays we wear…" – pink, the 2004 film was a veritable time capsule of early 2000s trends. With the advent of Mean Girls the musical on Broadway – whose script was penned by original screenwriter Tina Fey, and garnered an impressive 12 Tony nominations – the film is back in a big way. Luckily, though, its fashions are not, with Gregg Barnes' costume designs planting the sartorial world of the piece firmly within the 2010s. The designs not only bring a new dimension to characters we know and love – with the look of each deviating significantly from their path in the film – but also are surprisingly wearable. Get in, reader! We're going shopping – through the looks from the Mean Girls musical that you need to recreate ASAP.
What's more fetch than fashion hacks? Saving on tickets to Broadway's hottest show. Snag deals on Mean Girls Broadway Tickets.
#10: Janice's Denim Jacket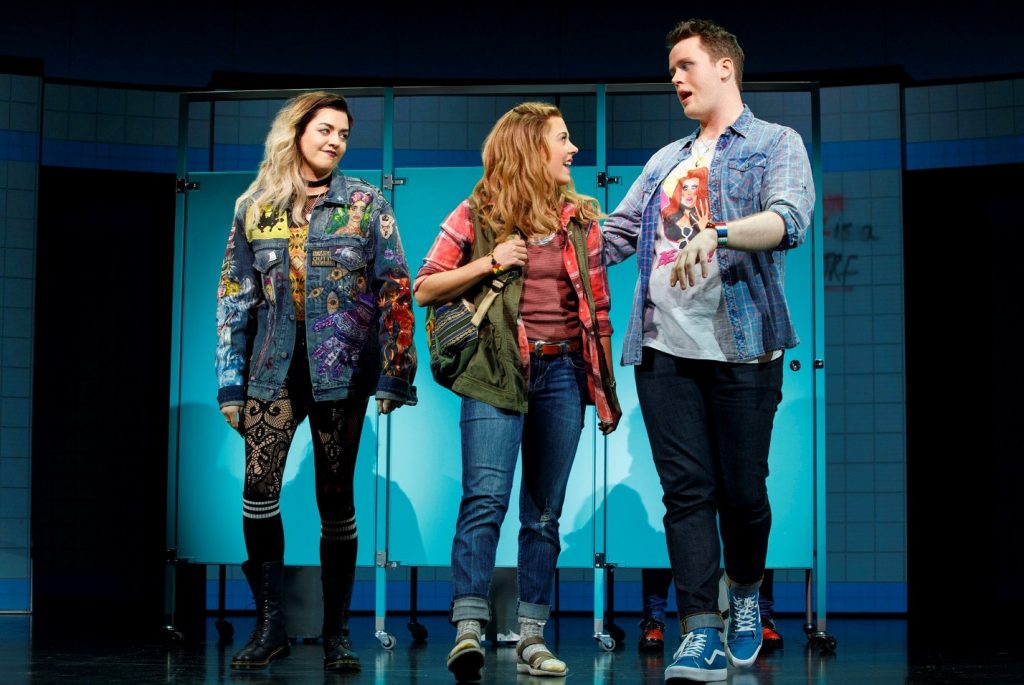 Janice's look has gone from grrl rock in the movie to soft grunge, and we're here for her transformation. This not-so-average denim jacket perfectly complements Janice's artistic identity, and pairs great with patterned fishnets, a choker, and Janice's signature sarcasm.
#9: Karen's Metallic Miniskirt
"My name is Karen/My hair is shiny/My teeth are perfect/My skirt is tiny," the perky-but-airheaded Karen trills in the song "Meet the Plastics." Tiny though it may be, Karen's flashy pink mini gives off serious '90s vibes, and should be replicated in your wardrobe immediately. Karen may not be the brightest of the bunch, but thanks to its metallic finish, her skirt most definitely is.
#8: Aaron Samuels' Preppy Polos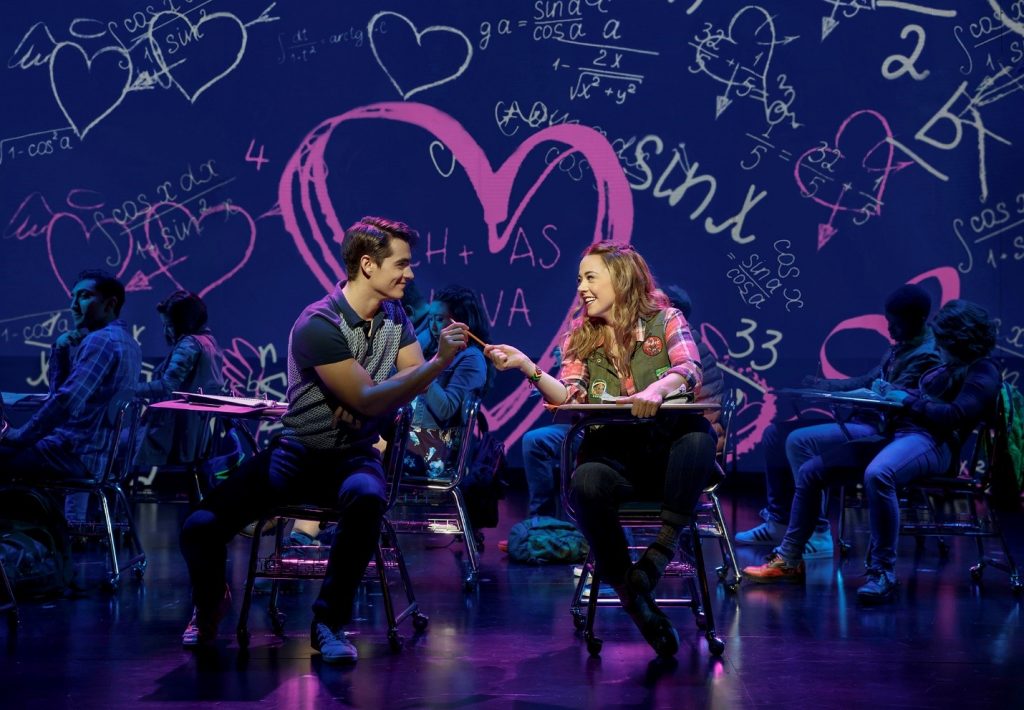 Token heartthrob Aaron Samuels' artfully disheveled movie hairstyle has been upgraded to a more suave look on actor Kyle Selig. (Regina, we are forced to admit, was woefully correct – Aaron's hair does look better pushed back.) Complementing the style is a series of perfectly patterned polos that practically scream, "All he cares about is school, and his mom, and his friends," – a sartorial statement to live by.
#7: Gretchen's Lace-Up Stilettos
While the movie Gretchen is the epitome of demure, upscale female styles of the 2000s – cardigans, plaid skirts, white gold hoops and all – the Gretchen of the musical makes some bolder fashion choices that point to her character's longing to break free of Regina's rule. A prime example is the floral embroidered lace-up stilettos she sports in Act I: part boot, part heel, and entirely too much in the best way possible.
#6: Regina's Button-Up Halter
There isn't much about Regina George that's subtle. "My name is Regina George/And I am a massive deal," she sings, and her fashion choices are usually no less blunt. Her lunchtime halter in the scene in which she meets Cady, though, is more than wearable.
#5: Ms. Norbury's Mathletes Ensemble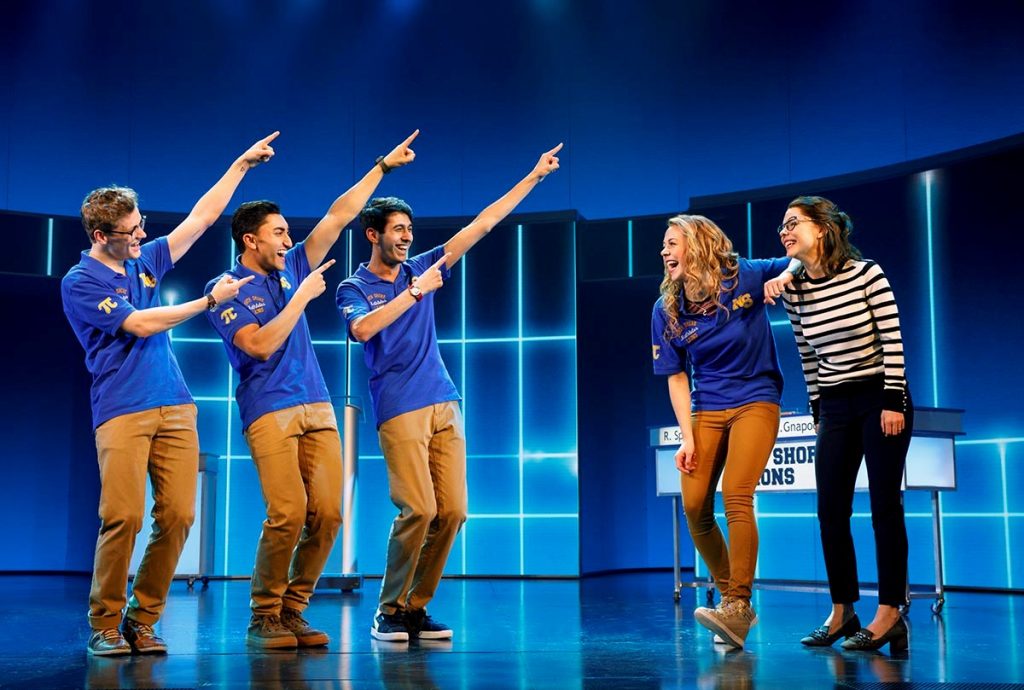 While her students may resemble a swarm of Best Buy employees on their break, Ms. Norbury's outfit for the mathletes championship – featuring elegantly cropped pants and dainty heeled loafers – is way more put-together than anything Tina Fey sported in the original film, and ensures that audiences know that Norbury's not a regular math teacher. She's a cool math teacher. Speaking of which…
#4: Mrs. George's Stiletto House Slippers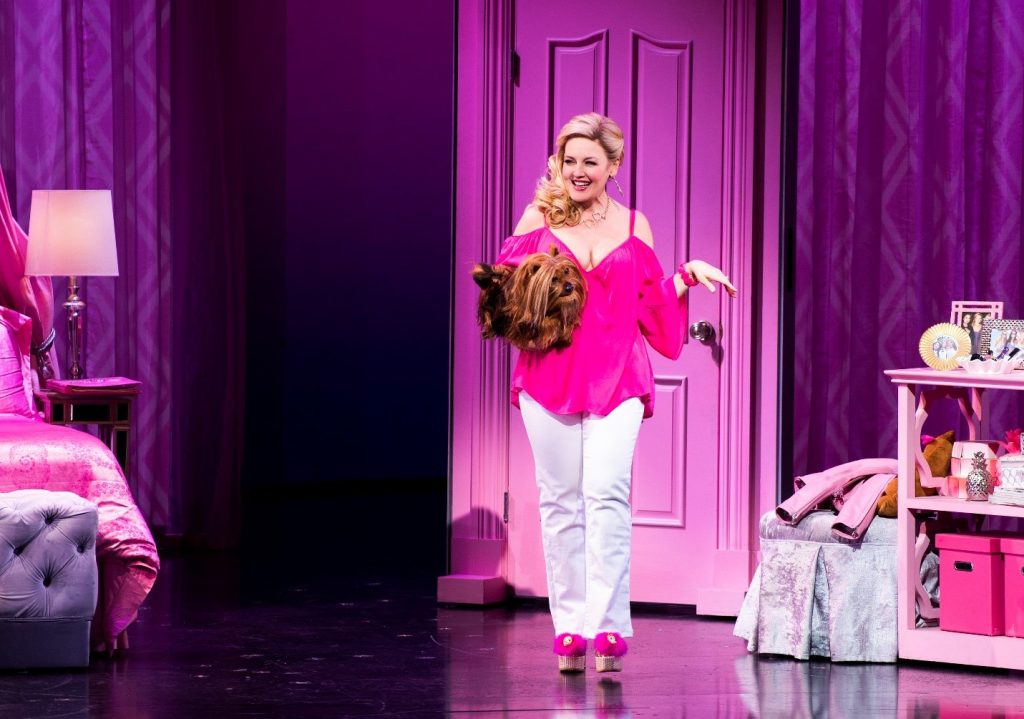 It's not just these fur-festooned platforms heels, into which everyone should be so comfortable slipping to after a long day of sipping cocktails and checking their daughter's Instagram feed, that makes this look shine. It's the way they, along with the rest of the outfit, allow Mrs. George to blend in perfectly with the environment of Regina's bedroom, making her the epitome of the stay-at-home – and decidedly cool – mom.
#3: Damian's Teal Flannel
A flannel shirt layered over a graphic tee? We've seen that before. But a flannel shirt in an eye-catching color, with coordinated sneakers, sported by this tap-dancing musical theater fan? In Cady's words, positively "grool."
#2: Regina's Secret Agent Garb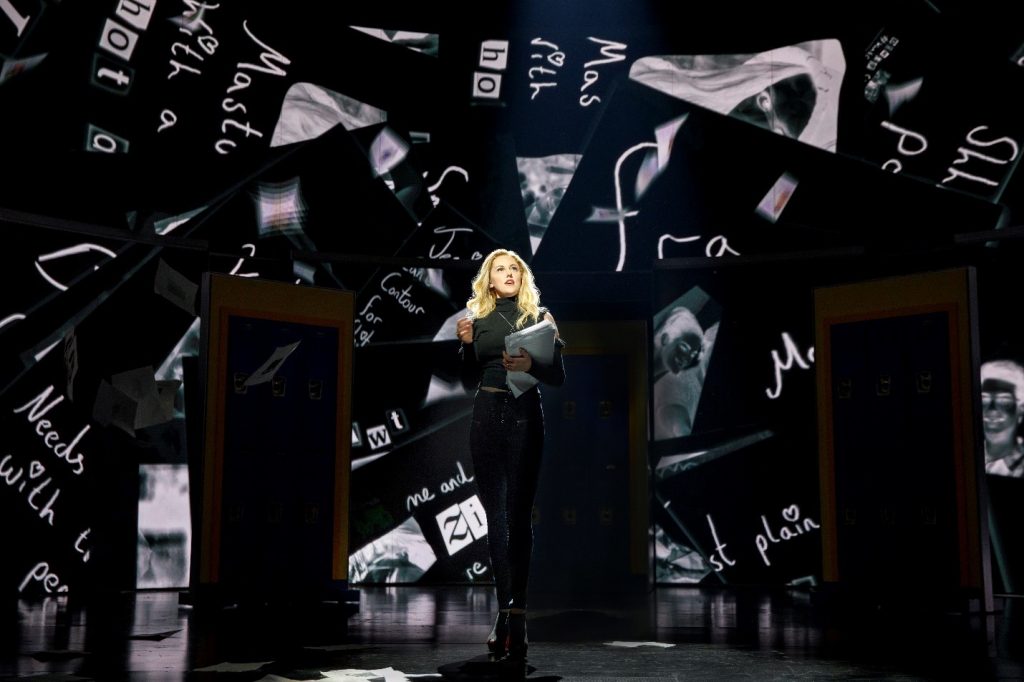 In Act II, Regina officially goes to the dark side – literally, as she dons head-to-toe black that perfectly complements her villainous, James Bond theme-esque solo, "World Burn." It's the perfect look to sport while handily smiting your enemies, or belting out one scorcher of a revenge song.
#1: The Spring Fling Attire of…Everyone
In a costuming move that demonstrates how the Plastics have evolved into their own individuals – and how the geeks have learned to let their geek flag fly – there is not a single pink ensemble to be found in the cast during the Spring Fling-set finale, "Stars." Janice and Damian's matching paint-splattered tux ensembles are the perfect nod to embracing their artistic passions, while Karen and Gretchen's orange and turquoise dresses complement each other, while in no way imitating Regina's white feathered stunner. Channel these contrasting vibes on your next girls' night out.
By Danielle Moore