The contents of your bag tell a lot about your personality and where you are in life. But regardless of where you're going – whether you're simply taking a quick trip to the grocery or traveling abroad, here are some items that do not take too much space but are greatly helpful in various life situations:
Sanitizers
Germs and bacteria lurk everywhere (even on things inside your bag like your mobile phone, car keys, etc.)! They also lurk in the car seat of the cab you just rode, the door handle in your hotel room, the yoga mat you just spent several minutes lying on, and the office telephone you just used. Make sure you have a weapon against these disease-causing microorganisms: sanitizers.
Gel, liquid or spray sanitizers are very effective at keeping your hands clean and preventing the spread of viruses and bacteria. Of course, nothing beats handwashing. But the fact is that you can't hand-wash all the time, especially when you're outdoors. Sanitizers are an easy way to clear your hands off those tiny germs that could be making your body vulnerable to allergies, colds, flu, and infections.
Make sure you have disinfecting supplies in your bag to keep your home or office environment clean. It's also a must-bring when traveling. Planes can be breeding grounds for illness-causing bacteria. Your suitcase alone can come in contact with 80 million bacteria while you're traveling. Antibacterial wipes are a great life-saver. You never know when you will need it so make sure you have enough in your bag.
Tissue
From wiping that ketchup stain on your toddler's shirt to fixing your makeup, and removing food particles from the table – tissues are totally a life-saver. Isn't it great to have something you can use high level disinfectants to wipe off the mess and dispose of after? Make sure you have a pack of tissues everywhere you go. Again, you never know when you need one.
Accessories
If you're like most women, you'd go by saying that if you can put your entire closet in your bag, you will! However, if you need to trim down your accessories (which you probably consider important), there are a few items that you should not do without:
Key Cosmetics
Have a pouch which contains all your key cosmetics: lip balm, lipstick, eyeliner, face powder or foundation, and eye shadows. While you may have a lot of lipstick or several cases of eye shadows, you want to bring only one of those. Well, two lipsticks are not bad. Just make sure that these items are something you usually use (especially when you have to do some retouching).
Sunglasses
Wearing sunglasses is an easy way to protect your eyes against the harmful UV rays. It's important to have a pair of shades in your bag, especially during the summer or when you're traveling.  You can get your favorite pair of sunglasses at SmartBuyGlasses.
Devices/Gadgets
We won't go over in detail about bringing your mobile phone because you will, for sure. Let's admit it – most of us can forget about anything except our phones! However, we often forget a few other devices that are equally essential, such as:
Headphones
Headphones allow you to make calls while you're driving or tune in to Spotify while you're busy typing from your computer. In short, it makes your life so much better.
Portable Phone Chargers
Besides being a tool for communicating with family and friends, many people use their phones as an extension of their work. When you're traveling, you don't always have full control of your time. You never know what time you could charge your phone again (could be after an hour or after two days!). Aside from the standard charger, you want to bring an extra portable charger or power bank. These days, our mobile phones have become very important in our lives.
Water Bottle
By the time you feel thirsty, your body is already dehydrated. Research shows that as little as 1% dehydration can negatively affect your mood, concentration, energy levels, memory, and motor coordination. If you're always outdoors, you are setting yourself up to serious dehydration. So make sure you have a bottle of water in your bag all the time. Taking a few sips every now and then will surely keep your body functioning in an optimal state. To reduce your carbon footprint, opt for a reusable water bottle.
Painkillers
Pain is a common issue. In fact, one in four Americans has suffered from pain that lasts over 24 hours. Many things can trigger a headache – changing weather, too much or too little sleep, stress, hunger, smell, and hormones, to name a few. Buy a travel-size container of your preferred painkiller or invest in a nice pillbox. Alternately, you can bring a soothing/calming balm to relieve common pain problems, from headaches to muscle pain.
Wallet
Probably the next thing you won't easily forget to put in your bag next to your cell phone is your wallet. Your wallet is more than an accessory. It houses very important items that you need to survive in the outside world and keep safe during an emergency.
Here are a few items that must go in your wallet:
Credit/debit cards. Consider choosing a wallet that has card compartments to keep them from potential damage.
It's likely that you're using your debit or credit card for most purchases but it can be helpful to have a bit of cash too. You might find yourself needing cash to make a certain purchase (especially when you're traveling), so it's good to be prepared.
Valid identification cards. There are many instances where you need official identification so it just makes sense to keep them in your wallet.
Emergency contact information. Keep a card with your contact information (and that of a family member) in case you lost your bag or wallet or you had an emergency.
Insurance cards. Don't leave home without bringing your medical and auto insurance cards. You will need access to these in case of an emergency.
Face Towel
When you need to wipe off your sweat or go to the restroom for a quick facial wash, a microfiber towel is so very useful. Microfiber practically dries instantly and even if you pack it damp, you won't worry about the possibility of mold growth.
Tampons
It's just plain awkward to ask for a tampon from a colleague that you're not very close to or from someone you just met during a conference. Avoid situations like these by always having extra tampons in your bag just in case of a surprise visitor.
Warm Clothes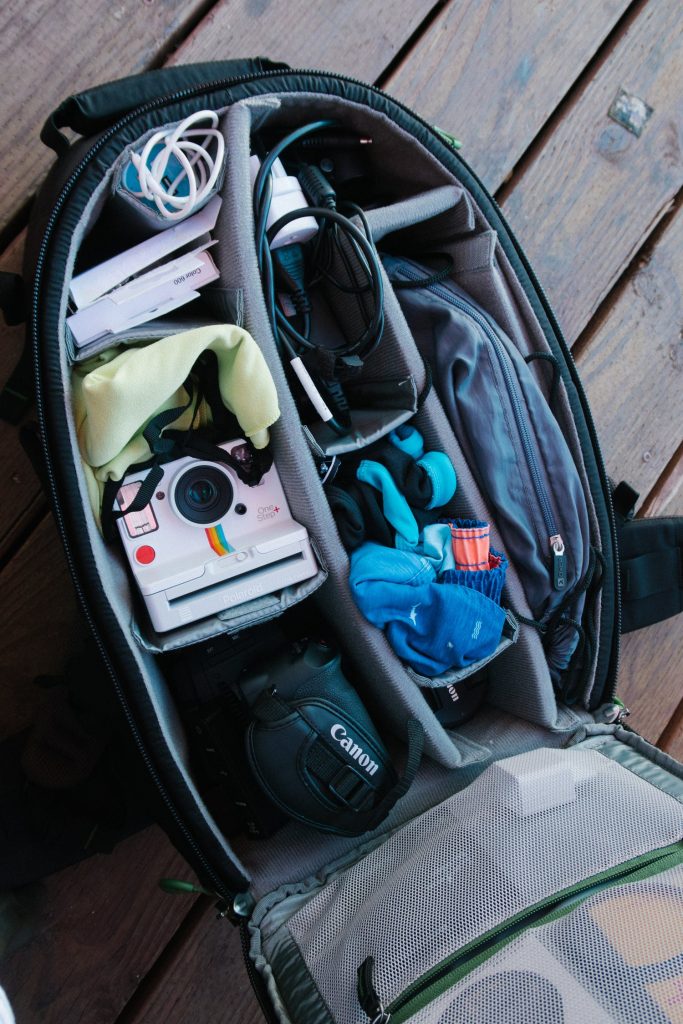 Regardless of where you're headed, you want to insert at least one light yet warm clothing (such as a thermal cardigan) to keep you feeling comfortable in case you need to stay in the office until evening or when you have an important errand to do after work. If you're traveling, a light scarf is a helpful addition to your bag for added style and comfort. You can even just tie it to your bag for ease of access!
By the moment you leave home, your bag becomes your life. It becomes your source of security and comfort. While it's completely up to you what else you want to have in your bag, the items listed here are those that you should always have, regardless if you're just going to work, doing some errand, or traveling cross-country.