The Provence region is world-famous for its fantastic rosés. Yet, many people may not realize that there are vineyards right on the way to Pampelonne. No need for a whole day trip: stopping at prestigious wineries is perfectly possible en route to the beach. Here are our top four vineyards in the South of France, found near St Tropez's most famous sands. 
Minuty: One of the most glamorous vineyards in the South of France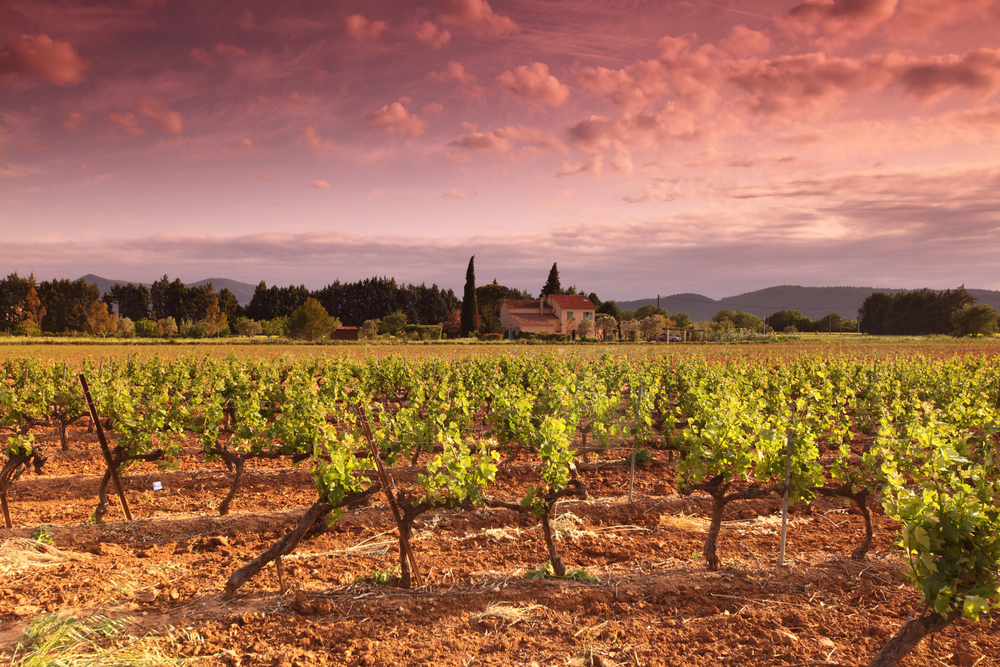 Having created the "AOC" label in 1955 to protect and promote Côtes de Provence's heritage, Minuty is perhaps one of the most iconic vineyards near St Tropez. Rooted in respect for legacy crus, Château Minuty only harvests local grapes for Provence's pure taste. Wine critics have praised Minuty as the number one vineyard in the South of France. On your way to Pampelonne, don't miss out on the chance to visit the sprawling domain. There are wine tasting sessions for professionals and amateurs alike, and you may have the opportunity to visit the wine cellars. 
Château Minuty is recognized for its 281 rosé, named after the Pantone color that adorns its bottle. The 281 is engineered to be the Provence wine by excellence: a pale salmon hue with peachy and light floral aromas complemented by iodized notes. The assemblages for its refreshing whites and silky reds of its "Or" collection have also become best-sellers. There are many other prestige cuvées of this iconic St Tropez vineyard to choose from, distributed worldwide. 
Domaine Bertaud Belieu: A historical vineyard near St Tropez
Located at the heart of the St Tropez peninsula since the 19th century, the Domaine Bertaud Belieu is an idyllic site with ochre farmhouses, sprawling vineyards, and a chapel. As the first historical vineyard near St Tropez, the domain benefits from atypical soil conditions, between coastal and rocky geologies, that allows for many varieties of grapes to be harvested. The vineyard produces Côtes de Provence, a protected designation that guarantees wines crafted within the boundaries of tradition and the highest respect for quality. 
With floral hints of peach, Bertrand Belieu is renowned for its elegant and crisp rosés, hailed as one of the best from a vineyard in the South of France. Their mineral whites are freshly reminiscent of exotic fruits, a stark departure from their rich and earthy reds. The Domaine welcomes visitors year-long for impromptu tastings or educational tours on the production process. Those seeking a tour of their wine cellars will need to book an appointment beforehand. 
For those that fall in love with this winery, it is possible to rent or buy a villa in St Tropez almost next door, such as the Villa Belieu, available for rent.
Eco-Friendly Vineyards in the South of France: Château Barbeyrolles
Also situated in the St Tropez peninsula, Château Barbeyrolles may be the most eco-conscious and independent of all the South of France's vineyards. Their Côtes de Provence wines mirror France's utmost esteem for the terroir, meaning the adoration of gastronomy and production's local specificities. Their biological agriculture respects traditional techniques, such as using horses and manual labor during harvest season. The domain is also known as pioneers in rosé assemblage, creating the first naturally clear Provence rosé back in 1985. Benefitting from a distinctive microclimate, Château Barbeyrolles also offers honeydew-inspired whites and chocolaty reds. 
With a gorgeous bastide hidden behind cypresses, head over to their beautiful vineyard near St Tropez to discover their natural production processes, wine degustations, and visit the magical domain. Don't forget to book in advance! 
La Rouillère: The Most Atypical of the Vineyards Near St Tropez
Established in 1900, La Rouillère is an award-winning vineyard near St Tropez. Their sophisticated Côtes de Provence wines are served in luxury institutions worldwide, from St Barts beach resorts to glitzy Hong Kong hotels. Renowned for two cuvées – La Grande Réserve in all three colors and a premium rosé – their wines pack a punch of flavor that is quite uncommon for the region. The Grande Réserve rosé is an association of 5 grape varieties, giving it a fruity and minty taste. Meanwhile, the white Grande Réserve is a robust wine with zesty notes, and the red is characterized by its aromas of fresh tobacco and red berries. 
Located on the outskirts of a road that follows the route of the vineyards in the South of France, it is nearly impossible to miss the domain of La Rouillère. Their cellars are open to visitors, and it is possible to book a luxury wine tasting in their modern and chic facilities. 
With world-class rosés, incredible views, and visits with experts, taking Provence's wine route on your way to sunny Pampelonne is the ideal way to discover the vineyards of the South of France. 
Featured Image provided by Relevance