A cami is a great choice to be worn underneath clothes. Or at least, that is what purpose it serves to many. Camisoles are an important part of women's dressing for several decades now. They have served as undergarments, outdoor fashion tops, and even as go-to-bed wears. We have witnessed them evolve in styles, types of fabric, and glamor, and so on. We have seen women wear only camis, worn them under suits, or directly under more revealing tops, just to make another piece of clothing to be less revealing. But how do cami tops make shirts less revealing?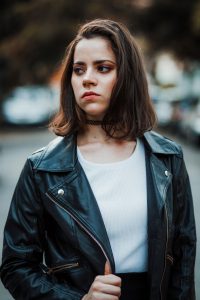 See-through dresses: 
Have you ever had this top or gown made of lace material that you can't put on as much as you like because it is too revealing? Yeah, that dilemma! Well, a camisole can easily help you solve that problem. A camisole allows you to wear your favorite underwear or package your boobs the way you want it, without revealing the secret of what you have underneath your see-through dress.
Near-nude days: 
There are days when you just want 'em titties to enjoy freedom. And, girl, that is really cool! The challenge with that, however, maybe that your nipples can be obvious through your top, thereby causing people's attention. Well, the good news is, there are now camis with pads serving as in-built bras. You can go for that and make your nipples less revealing under your top, while the breasts move freely. 
Formal occasions: 
Weather changes and days can get really hot. However, corporate meetings don't seem to honor this change, especially if the meeting is held in a place without an air conditioner. However, a camisole can save the day. It will allow you to look formal with your jacket while covering up your cleavage and chest. On top of that, it will enable your body to be more aerated than putting on several pieces of clothing from bra to singlet, to a packing shirt, and then the jacket. Whoops!
Adds sophistication to necklines: 
Low-neck shirts are now common. However, they are always revealing; if they don't reveal the cleavage (more than you like), they make the neckline look empty. Going for a camisole will not only cover up the cleavage space of your low-neck dress, but it will also upgrade your neckline. By choosing a compatible color of a camisole with your shirt, your neckline will appear sophisticated. And you know the exciting thing? When the same color of camisole and a dress is worn, people can barely tell that you have something underneath.
Padding oversized shirts: 
It is totally fine to slay oversize-top fashion trends. But there is a more classic way to do it, you know? Yeah. Oversized tops can make the movement of your boobs visible, which may be a bit embarrassing. By wearing a cami top, you can make your body firmer within the oversized shirt, making the movement of the breasts to be less obvious for the eyes.