Staying up to date with the latest and greatest interior design trends can prove to be not only difficult and time-consuming but also very expensive. Recently luxury cookware has altered its position in the modern market. More and more people continue to dip their toes into the world of cooking and baking and thus, are in search of modern, reliable kitchen cookware and accessories. But the sleek, fashionable trends are not the only factors being considered by buyers- functionality and versatility are also becoming increasingly important. When homemakers are not actively using these fundamental wares and accessories, they can be displayed as a functional piece of décor or a pop of color to impress your guests and add to the warmth and liveliness of your home. Below are just a few functional, fresh pieces of luxury cookware to inject color and style into your kitchen without sacrificing functionality. 
Dutch Ovens:
First invented in 1769, Dutch ovens are a staple in anyone's home kitchen. This thick-walled pot comes in 11 different colors- ranging from neutral tones of meringue, nutmeg, and oyster to a cherry red or flame orange. All Dutch ovens are made of enameled cast iron for a high-quality, durable product that you and your family will use for generations to come. Le Creuset also offers their customers several options according to size, shape, and purpose. The smallest Dutch oven available produces 1-2 servings (or holds 0.9L), while the largest dutch oven can serve nine or more servings at a whopping 12 Liters. Keep in mind the price varies in size, but all ovens big and small, receive the same limited lifetime warranty and free shipping.  
Braisers: 
Another piece of enameled cast iron luxury cookware is called a braiser. A braiser is essentially a flattened Dutch oven with a domed lid that creates the "perfect environment for tenderized dishes" (LeCreuset, 2021). Whereas the Dutch oven is used more for soups and stews with a considerable amount of liquid ingredients, the braiser presents itself as an easy, oven-safe way to roast or simmer meats in whatever juices or liquids you prefer. LeCreuset also offers these in 11 different colors to match your kitchen's color scheme. Since braisers are considerably smaller than Dutch ovens, adding your eye-catching braiser to open shelving or cabinetry presents even more opportunities to add other small functional kitchenware items to your home. 
Saucepans and Sauciers: 
Saucepans and sauciers are other examples of staple items in any homemaker's kitchen. These smaller, versatile luxury cookware offer practical use for heating, boiling, and creating tasteful soups and side dishes and the unique ability to be used as a functional pop of color and style into your kitchen. LeCreuset markets their 2L saucier in 9 different colors, providing fun accents of color by hanging them by a ceiling or vertical pot rack. These fun pops of color will catch your guest's eye as a unique, practical design idea that they might even want to incorporate into their kitchen. If brightly colored kitchens aren't your thing, buying the neutral-toned options is a great way to tie in concepts from other areas/rooms of your house. 
Kettles: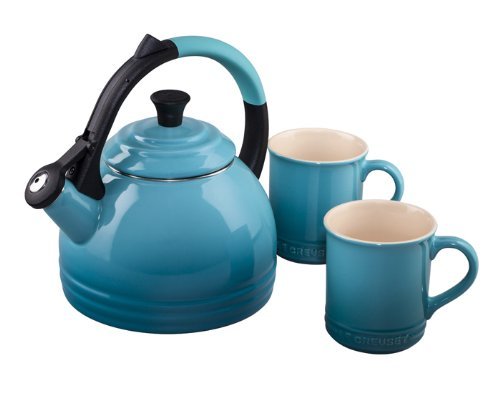 A tea kettle is another fun way to combine flair and fun with practicality. LeCreuset currently makes two styles of kettles- classic and demi. Both are flawlessly finished with your specific color choice, including an additional option of stainless steel. Whether you are a tea or coffee person, kettles come in handy for almost any guest you may have and grant a fun, timeless experience. In addition, your kettle can quickly become a part of practical décor, adorning your countertop individually or as a set, including a matching teapot and four additional mugs to keep your drinks hot for however long you need to finish that book or conversation.  
Think of your kitchen as another way to add your unique sense of style and personality to your home. Luxury cookware items present endless ways to incorporate your favorite colors- bright or monochromatic- into your kitchen in an effortless yet effective way. 
Featured Image by Pixy.org