Sad, disappointed, frustrated beyond belief—all feelings that are normal after realizing that your original baby shower plans no longer work with the current social distancing rules recommended by the Centers for Disease Control and Prevention (CDC). But just because you can't get within six feet of your guests doesn't mean that you can't celebrate your new arrival at all.  Whether you're planning a baby shower for the expecting mother or you're the mom-to-be (congrats, by the way!), there are plenty of ways to host a memorable celebration without breaking social distancing protocols. Here are a few distanced baby shower ideas to make the guest of honor feel special–even from six feet away.
The Virtual Baby Shower
Who says you all have to be in one place to throw a fun fête for the mama-to-be? In the age of social distancing, a virtual baby shower is an excellent way to welcome the new arrival without putting anyone at risk. We love this option because it allows your long-distance guests to join in the festivities! Here are a few ways to host a virtual baby shower that the guest of honor will never forget.
Choose the right platform.

 Zoom, Facebook, Skype—there are many video conferencing platforms that you can use to organize a virtual baby shower. No matter which one you choose, be sure to test out the technology 

before

 the baby shower, so things go as smoothly as possible.

Assign a host.

 With a virtual baby shower, it's important to have a host keep the baby shower on track. Decide ahead of time who the host will be and set a time limit for the event.

Consider a fun theme.

 A creative theme can make your party feel more "real" and exciting. Send everyone a mocktail recipe to make before the event and have them choose a virtual background that goes with your theme.

Play virtual baby shower games.

 Don't skip these! Virtual baby shower games can help break the ice and ease some of the initial awkwardness of throwing a virtual celebration. Here's a 

list of virtual baby shower games

 that are guaranteed to be a blast.
The Drive-By Baby Shower
If most of the guests are local, a drive-by baby shower is another fun option for a socially distanced celebration. A drive-by baby shower is exactly what it sounds like—friends and family decorate their cars and drive by her home, showering the expecting mother with love and gifts. Here are a few ideas to make it work.
Word your invitations carefully.

 Drive-by baby showers can seem a bit gift-grabby if you don't word them properly. If you're the mom-to-be, consider acknowledging that times are financially hard right now and that gifts aren't required. Unless someone is truly struggling, you'll no doubt be showered with Onesies® Brand Bodysuits, receiving blankets, and other baby essentials.

Set up your station.

 Decorate the garage door with a cute background and tie balloons to the mom-to-be's home. Don't forget to take pictures!

Hand out gifts and snacks.

 Your guests are showering you with love. Why not shower them back with cute party favors? Handing out customized baby shower gifts that include the baby's name and due date is a fun way to pamper your guests.

 

Disinfect gifts.

 As an added precaution, consider asking the mom-to-be's partner or a close relative to stand in the driveway with disinfecting wipes. They can wipe down the gifts before handing them to the mommy-to-be. Bonus points if they're wearing a personalized mask that goes along with the baby shower theme!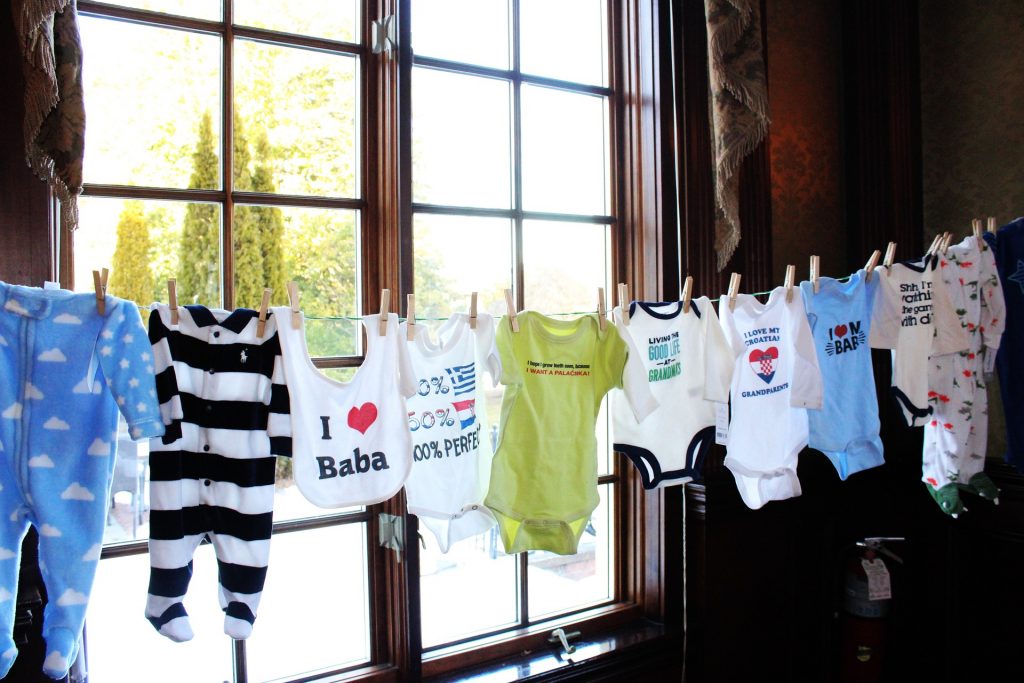 The Socially Distanced Backyard Baby Shower
If the weather is pleasant, throwing a socially distanced baby shower in the backyard can be fun—and a less risky way to celebrate your pregnancy. According to the CDC, there is a lower chance of spreading COVID-19 if you practice social distancing outside.
Even so, you and your guests still need to take certain precautions by wearing masks and being strict about staying six feet apart. Here's how to make it work.
Keep the gathering small. 

To further lower the risk of spreading COVID-19, keep your guest count small—especially if you have a small backyard. For an exact number, look to your state's restrictions on how many people can gather at one time.

Offer individually wrapped food. 

Individually wrapped portions are an easy and relatively safe option for serving food to your guests. You can have guests bring their own utensils or simply pick foods that can be eaten with hands. 

Prep the bathroom. 

If you're serving your guests food and drink, they will likely need to use the restroom at some point. Clean and disinfect your bathroom prior to your baby shower and swap your hand towel for paper towels.

 

Be prepared to enforce the rules. 

Designate someone to enforce the social distancing rules and be prepared to stand your ground if someone pushes back. Let them know that if they can't obey your baby shower rules, they shouldn't attend. Although that may sound harsh, it's in everyone's best interest.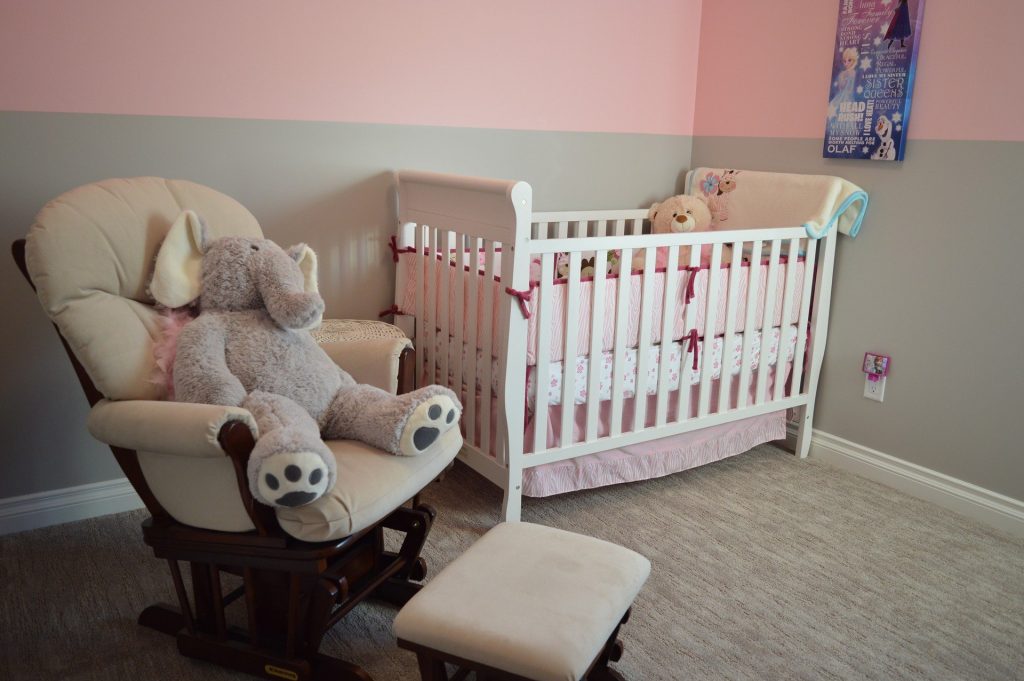 Celebrating Mom and Baby Safely
Let's face it—all celebrations will look a little different this year, and baby showers are no exception. Although it may be tough to forgo hugs from your loved ones, throwing a socially distanced baby shower will help keep everyone safe. With a little creativity, proper planning, and a go-with-the-flow attitude, you can easily throw a socially distanced baby shower that is just as sweet and memorable as any traditional gathering.
Featured Photo by Paola Vasquez from Pexels