Both greyhound and horse racing are well known for being exciting sports to watch and are popular with punters who enjoy placing their bets. They both provide a great day out filled with action and betting opportunities.  There are many similarities between the two. But what separates them, and which is the better option for a trip out? Here's what you should know about greyhound racing and horse racing, and the key differences. 
Horse Racing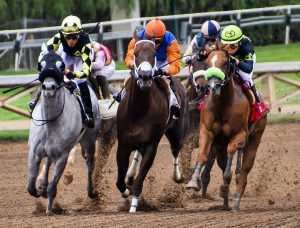 Horse races are limited to a certain number of horses in each race.  There are regulations that have to be met, which are set out by the British Horseracing Authority. Horse racing includes a variety of different types of racing, from endurance races to jumps racing and flat racing.  The latter two are the most common on a global scale. Racehorses are categorized by the breed, such as thoroughbreds, quarter horses, and appaloosa, which are used in different types of races. While racing is incredibly popular in the UK and Europe, with renowned events like the Grand National in 2020, it's also a globally enjoyed sport – destinations such as Australia, Japan, and the United States are all big fans of racing and hold some of the most prestigious events in the world. 
Greyhound Racing
Greyhound racing also adheres to certain regulatory structures to ensure that the races follow a code for consistency. Each race has a specific number of dogs.  There are only two types of greyhound racing, unlike horse racing – track and coursing. In track races, dogs race around an oval track whereas in coursing, they chase after a mechanical lure. Many people don't realize that greyhound racing is a popular sport in other areas of the world too. Some of the most famous greyhound racing events include the Irish Derby, the Greyhound Night of Stars, and the Melbourne Cup. 
The Differences
Both greyhound racing and horse racing are incredibly popular events around the globe.  They are well-known for being great events to bet on. Both of these sports allow for pari-mutuel betting.  There are numerous types of bets that can be placed for both. Greyhound races and horse races typically stipulate the distance and handicap rules of the race.  There are a number of other factors, as they both follow codes and regulations to ensure reliability. 
For an affordable day out, greyhound racing is typically cheaper to attend.  It is also an easier race to watch as there is usually less time between races. But for prestige, style, and a vibrant atmosphere, few things can compare to horse racing – events such as the Grand National and Royal Ascot have a reputation for being brilliant days out. However, because these types of events have the inclusion of entertainment and other features besides the races themselves, they can be costlier to attend. Horse racing is a really social event that has a brilliant ambiance, but they can be busy events, with thousands of people attending. If you are just interested in watching the races, then greyhound racing could be the better option for you.