The way that the majority of the population chooses to get to work is evolving because of the dent it leaves in our wallets. Not to mention the dramatic effect that it's having on the environment. Ditching the car or the bus means that you'll no longer be using fossil fuels to push your journey. Therefore leaving a greener footprint. So, with so many reasons to invest in an adult scooter and get fit, why are people so reluctant to use the two-wheeled and green alternative to get to work? Continue reading to find out what other alternative modes of transport you have.  Learn how you will be combating the effects of climate change by making the switch. 
The Environment
If you're not one of the lucky few people who are able to work from home or live close enough to walk to work, then you face a tough decision regarding your commute. If you live in a metro area, then the likelihood is that you'll be able to hop on a tram.  But if you need to travel further than a few miles, then at times it can feel like hopping in the car is your only option. The amount of cars on the road directly impacts the issues we are facing due to climate change.  The reality is we still rely on fossil fuels to get us to work. When burned, these types of fuels produce harmful gases that pollute our environment.  They cause irreversible side effects such as global warming. If you don't live close to work, then thinking of ways to reduce the amount of cars on the road is important. Things like car-sharing or shuttle services are a step in the right direction.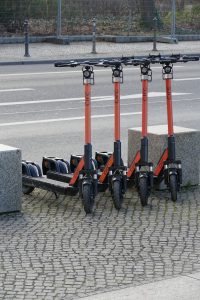 Adult Scooters
If you do live a little closer to work, then investing in an adult scooter to get you to and fro is a great idea. You can burn approximately 200 calories by riding your scooter for just an hour.  This means you won't feel guilty for skipping your late night or early morning gym session. Cardio workouts, just like the one you'll get on your scooter, get the heart pumping and the blood flowing freely around the body.  This makes for a healthy heart and lower cholesterol. 
This form of exercise also promotes the release of endorphins into the body, which have been medically proven to improve your mood and make you feel more motivated. Not only is there an endless list of health benefits that you'll receive for making the switch, but you'll be saving the environment. Cutting out your daily use of fossil fuels will prevent up to 6 tonnes of carbon dioxide from being released into the atmosphere a year- it is possible to make small changes and big differences. 
Save Money
If you drive to work, then the likelihood is that you're throwing away a large proportion of your salary on your commute. Up to $1000 to be precise. People in Melbourne have reported wasting a quarter of their wages on the upkeep of a vehicle. This includes gas, parking, and toll fees, not to mention the endless road rage that comes along with trying to find a spot close enough to work to park for the day. Investing in an adult scooter won't just save the planet, but it will save your pocket in the long run too.
Summary
Now you know why making the change to a greener commute can improve your health and save the environment, what's stopping you switching to a scooter today? Not only that, but it'll save you heaps of money in the long term, too, since you'll be able to save on your daily travel expenses as you commute to work!
Featured photo by Image by Image by Tor Einar Aslesen from Pixabay