For generations, hoop earrings have made fashion and culture statement. Originally made from gold, hoop earrings evolved to include a myriad of materials and abstract shapes. Huggies are a variation of the traditional hoop earring, designed to fit closely to the ear lobe. Discover the history and mystery of hoop earrings and why they continue to be popular among fashionable women of all ages.
Hoops of All Sizes and Designs
Hoops are classic earrings in a round shape that hang from the earlobes. From tiny hoops to shoulder-grazing designs, there are hoops to match any style or outfit. Often babies get their ears pierced with small hoop earrings, an indication of future styles to wear. Adina's Jewels has more types of hoops to complement any look, from a variety of materials. From small to large, gold to silver, hoop earrings are the ultimate finishing touch for any outfit.
The Early Days of Hoops
Men and women have worn jewelry since the beginning of civilization. The earliest pairs of earrings date back to Sumerian women in 2500 BC and were the classic gold hoops still worn by women around the world today. In 1500 BC, cats in Egypt wore hoop earrings. When Julius Caesar reigned over Rome, he turned earrings into a status symbol. In the 1600s and 1700, pirates wore earrings to ensure they would get buried if washed out at sea. The history of hoop earrings proves men and women have loved this style for centuries.
What is Huggies?
Huggies are small hoop earrings that fit close to the ear lobes and are typically thicker than classic hoop earrings. The thickness makes these earrings appeared to hug your lobes when worn. The earring hinge is at the bottom, so it cannot be seen and faces the wearer's shoulder. Many women wear hoops and Huggies together, sometimes up the ear lobe for a trendy look that is sure to get attention. Multiple earrings continue to be popular, from work to nights on the town. 
Culture of Hoop Earrings
Many cultures wear hoop earrings as part of their tradition. Baby girls get their ears pierced in countries around the world to wear small hoops. As they get older, the hoops become bigger. Men also don hoop earrings for celebrations and daily wear. Gypsies are known for wearing large hoop earrings, which are often part of a fortune teller's traditional outfit. Numerous cultures view gold hoops as a powerful symbol, making it easy to understand how these earrings became popular worldwide.
Hoops for the Body
Beyond the ears, hoop earrings are popular as body jewelry. People wear small hoops on their noses, eyebrows, lips, belly button, and other body parts. The popularity of the hoop expanded as piercing became a hot trend in the 1990s and beyond. Some people enjoy wearing several hoops on their bodies, in gold and silver. No matter where you wear hoop earrings, they are sure to enhance your overall appearance.
All Types of Hoops
Hoops come in various styles, with hinges or without. Hingeless hoops have a smooth look without interruption. However, many active people prefer hoops with hinges to ensure they do not slide or fall off. Hoops can also have a post, which means they are not completely round. No matter which closures you prefer, remember to be careful taking clothes off over your head when wearing large earrings. Because of their design, hoops can get caught in your clothes if you don't pay attention when changing.
Baby's First Hoops
When little girls get their ears pierced, it's a photograph moment. Usually, you can choose from small studs or hoop earrings. Dainty hoops bring a touch of beauty to a little girl's face, and the photos will make her smile about the first pair of hoops she owned. Select earrings made for sensitive ears when piercing to avoid irritation. 
Many Materials
Hypoallergenic materials are a good option for those who are subject to irritation with sensitive ears in mind. Gold is the original material used to make hoops thousands of years ago, and it is a leading choice today. Most gold earrings are 14 karats, with affordable gold overlay options for those on a budget. Sterling silver is another popular choice and fits into any budget. Other options include metal, stainless steel, and plastic. Hoops can also be made from unique materials, such as wicker and wood, for a natural touch. Choose hoops in a variety of colors and materials to match any outfit.
Hoops of All Sizes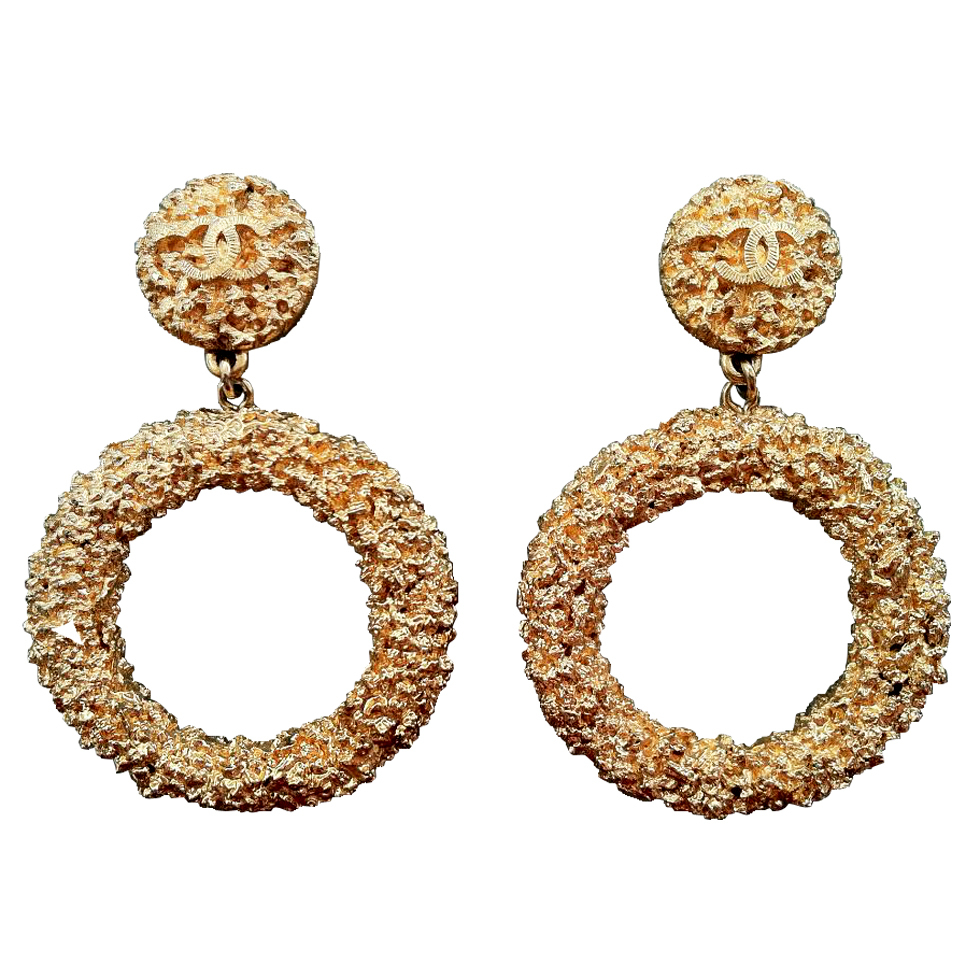 Small hoops are a delicate way to show of your fashionable side. Larger hoops make their own fashion statement, from 1960s movies to rap videos today. For generations, hoops were considered fashion-forward and worn by the most daring women. Today people of all ages and backgrounds appreciate hoop earrings, and they range from classic to trendy. Large hoops can be a long as the shoulders, in the round and squared-off shapes. There is no limit to the size you can wear, as long as your ears feel comfortable!
Hoops and Huggies
Multiple piercings are another hot trend that is here to stay. Many people get several piercings on the ear lobe and ear to wear several hoop earrings at the same time—often smaller hoops down the top of the ears with larger hoops in the lobes. Huggies look amazing worn with hoops because they are a similar style made from thicker materials. The combination of hoops and Huggies have become increasingly popular, with women wearing this look professional as well as outside of work.
Dare to Be Different
Traditionally round, hoop earrings have taken new shapes over the past few generations. In the 1980s, bamboo hoops were popular and constructed of thick materials. Recently, thin hoops b became a popular look. The thickness and size of hoops constantly evolve to reflect the fashions of the current time. The type of hoop earrings being worn can help someone determine when a photograph was taken. Squared off hoops bring a modern feel to an outfit, while elongated ones add a touch of elegance.
Hoops for the Evening
Hoops made from crystals, diamonds, and rhinestones are the perfect way to add sparkle to an evening outfit. No matter where you go, dazzling hoop earrings are sure to complement your look. Shiny hoops bring a touch of fun to a classic black dress or pantsuit. Add colorful hoops to match a wild outfit, such as a cheetah print or polka dots. Go beyond basic to create dazzling evening looks.
Professional Hoops
Known as fashion-forward, hoops can also be conservative for business or other formal occasions. Smaller styles are a classic way to show fashion sense yet still look appropriate. Silver and gold are good choices, and thick and small hoops pair well with blouses and blazers. With a variety of small styles, there is a hoop that looks good anywhere and anytime. Try a few different sizes and styles to determine which work best for work and feel most comfortable throughout the day.
The More, The Merrier
When it comes to hoops, you probably never have enough of them. With endless styles and sizes to consider, no two pairs look the same. Consider multiple piercings to wear two or more hoops at the same time. Choose small hoops for your ears' tops, then gradually increase the size to the largest hoops in your lower lobes. Include Huggies for a fashionable look that everyone is sure to notice.
Ideal for Gifts
With all the hoops to think about, these earrings are a perfect gift. Choose silver or gold, and a myriad of sizes, to match any wardrobe. Consider the personality of the wearer to choose hoops that fit their style perfectly. When in doubt, classic gold hoops are always a favorite for women and men of all ages. When someone gets a pair of hoop earrings, they are sure to thank the giver for being so thoughtful. Plus, they make a perfect gift for yourself! Everyone deserves to feel special once in a while, and a pair of hoop earrings is an affordable way to reward yourself. 
Celebrate Yesterday and Today
Old-fashioned designs bring back retro styles of yesterday, such as heavy hoops from the 1980s or big ones from the 1960s. Use hoop earrings to create an outfit that takes you back in time. From costume parties to a special night out, hoops also inspire thoughts from specific time periods. Use hoops earrings to create a unique outfit from yesteryear.
With all the options to consider, it's easy to see why hoop earrings continue to be a favorite style among fashionable women and men. The rich history of hoop earrings proves they are an integral part of many cultures. Often hoop earrings are part of coming of age and being fashionable. Dare to be different and choose hoops in unusual shapes, sizes, and materials to make your wardrobe more versatile. All it takes is the right pair of earrings to transform your appearance and make any outfit look trendier.
Featured Image by Anastasia Gepp from Pixabay