There are many different ways to camp and enjoy everything that nature has to offer. Camping is one of the best ways to immerse yourself in the Great Outdoors. 
But, for every camper, there is a preferred way to camp. Some love packing everything they need in a backpack and really roughing it in the wild. Others will go in an RV and call it camping, too.
Nobody is right, and nobody is wrong in any scenario. What is important is that you get out of the house. If you do like to have a little more comfort or don't like the idea of eating freeze-dried food, then glamping is your best option.
If you've already picked out some of the best places to go glamping, now you need to know how to actually do it. Read on for some tips on how to get the most out of your glamping experience.  
Choose your housing
There are so many ways to go glamping from a luxurious tent to camping in an SUV to a full-blown RV with all the modern conveniences. 
Find the right way to keep a roof over your head that works best for your comfort level and your budget. Whatever it takes to get out into nature is fine. Whatever works best for you is what is important.
Understand what your comfort level is. You can make a tent very comfortable with the right modifications, but you will have issues like space and the effort to set up a tent to be comfortable. In contrast, a camper van or RV is pretty much ready to go and can be comfortable with little effort.
Set up sleeping quarters
One thing that puts many people off of camping is how uncomfortable it is to sleep. That's why glamping is becoming popular as you can set up a really comfortable bed even in a tent. 
An air mattress can be just as comfortable as the one you sleep on at home. And if you also add a comforter and memory foam pillows, then you may be tempted to sleep in all day!
Also, add a hammock, so you have the ideal napping solution. There is nothing better than coming back from a long hike, enjoying a hearty lunch, and then napping to your heart's content in a hammock in the woods. 
Set up a living space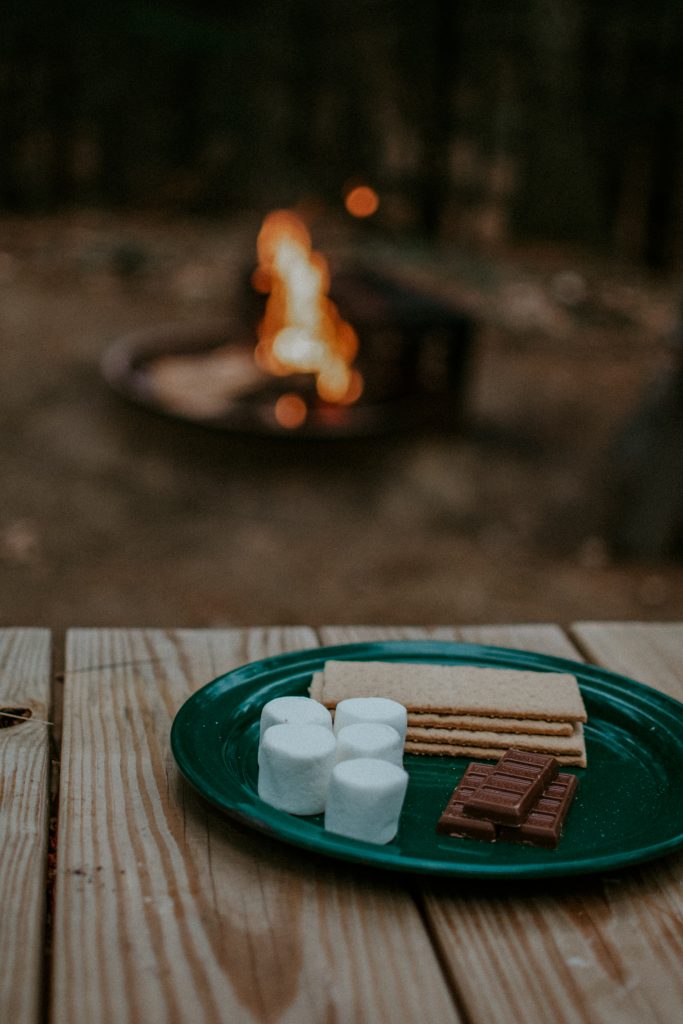 In addition to the obligatory hammock, you should set up your space as an outside living room and kitchen. Have your stovetop surrounded by a prep table so you can prepare your meals instead of just heating up camp-style meals. 
Then put some small tables around and maybe even a blow-up chair for added comfort. If you have friends come to visit your pitch, then they will feel right at home with some creature comforts. 
Don't forget a central campfire for atmosphere, warmth cooking, and, of course, s'mores! Bring along a bottle of fine wine, and all of a sudden, you're glamping instead of camping!
Featured Photo by Josh Hild from Pexels